Due to COVID-19 shutdown orders, many business owners have had to close or partially close their businesses. As a result, they've lost substantial income, and have turned to business interruption insurance policies for help.
Business interruption insurance is supposed to cover losses related to physical damage, such as which may occur during severe weather outbreaks or because of leaking pipes. Business owners argue that COVID-19 caused physical damage and should qualify for insurance coverage. Insurance companies around the country are denying these claims, however, leaving many business owners with no way to recover their losses.
Seeking relief, some business owners have filed business interruption insurance lawsuits, hoping that the courts will force insurance companies to pay out damages. In April 2020, a group of plaintiffs filed a motion seeking consolidation of all similar lawsuits, noting the common questions of fact and the national importance of the issues raised.
The insurance industry is fighting back, and so far has filed at least 24 briefs opposing multidistrict litigation, stating it would complicate and prolong the litigation.
Plaintiffs Seek Consolidation of Business Interruption Lawsuits
Currently, there are over 100 business insurance lawsuits that have been filed around the country, and expectations are that there will be hundreds more. Recently, plaintiffs filed two motions with the U.S. Judicial Panel on Multidistrict Litigation (JPML) asking the panel to consolidate the suits. In the first, they argued that the question of whether insurance policies will cover COVID-19 losses is of such great national importance that it can't be dealt with in piecemeal fashion.
In the second one, they emphasized that consolidation would be much more efficient, particularly when it comes to discovery and legal analysis, and could prevent conflicting rulings. All of these lawsuits, they added, raise two common questions:
Does COVID-19 cause physical damage or property loss, as defined by insurance policies?
Is insurance coverage triggered when the virus is present on or near the business property?
The plaintiffs suggested different locations for the proposed MDL: Philadelphia and Chicago.
Insurance Companies Argue Against Consolidation
The insurance companies want no part in paying COVID-19-related business loss claims. So far, their general position has been that the virus did not cause physical damage and thus any losses blamed on the virus do not qualify for coverage under these policies.
Several insurance companies have also filed briefs opposing consolidation. Some argue that a single federal court should not interfere with the process of policy interpretation on a state-by-state basis. Others say consolidation motions are flawed because the business interruption insurance cases are not the same. Each claim, they argue, deals with different insurers, different policy language, different state insurance laws, and different COVID-19 shutdown orders. They add that the lawsuits filed name a high number of different insurance groups and individual insurers as defendants and that consolidation is usually not prudent in cases with multiple defendants.
Some plaintiffs have opposed consolidation as well, concerned about delays in litigation during which their businesses would continue to suffer. Other groups have advocated for establishing multiple MDLs combining cases by state, region, or defendant.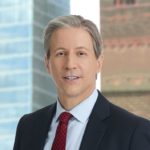 Exclusively focused on representing plaintiffs, especially in mass tort litigation, Eric Chaffin prides himself on providing unsurpassed professional legal services in pursuit of the specific goals of his clients and their families. Both his work and his cases have been featured in the national press, including on ABC's Good Morning America.