A California man recently filed a new Camp Lejeune lawsuit in the U.S. District Court for the Eastern District of North Carolina. He seeks compensation for water contamination-related illness under the recently passed Camp Lejeune Justice Act of 2022.
Plaintiff Blames Contaminated Water for Kidney Disease
According to his complaint, the plaintiff was stationed at Camp Lejeune on multiple occasions between 1963 and 1967. While there, he completed six separate 30-day stints of mess hall duties, which required him to clean with toxic water. Additionally, as an ammunition technician, he regularly drank water from "water buffalos" (large water tanks) dispersed throughout the base.
In these ways, the plaintiff claims he was exposed to water polluted and contaminated with chemicals including trichloroethylene (TCE), perchloroethylene (PCE), benzene, and vinyl chloride.
While on the base, the plaintiff began to experience severe, debilitating headaches. He was later diagnosed with stage 4 chronic kidney disease (CKD) with severe chronic interstitial nephritis (a condition in which the spaces between the kidney tubules become swollen and inflamed). Stage 4 means the kidneys are moderately or severely damaged and are not working as well as they should to filter waste from the blood.
Waste products can then build up in the blood and cause other health problems, including high blood pressure, anemia, bone disease, heart disease, high potassium, high phosphorus, and a buildup of acid in the body. Stage 4 is the last stage before kidney failure.
The plaintiff blames his headaches and kidney disease on his exposure to contaminated water while at Camp Lejeune.
Government Fails to Compensate Victims for Decades
For more than three decades, toxic chemicals escaped from fuel tanks, industrial facilities, and other sources on and around Camp Lejeune and seeped into the groundwater below. By drinking, cooking with, bathing in, and otherwise coming into contact with that water, hundreds of thousands of men and women working and residing on the base were exposed to these chemicals, increasing their risk of health conditions including cancer.
For decades, the government has failed to properly address this harm. They finally shut down the affected facilities and wells in 1985, but those who developed related diseases found it near impossible to receive compensation. Though the Marine Corps finally began to notify veterans and family members of their potential exposure in 2008, claims against the U.S. seeking medical care were vigorously resisted, with many being delayed and denied.
When victims filed lawsuits under the Federal Tort Claims Act in federal court, the U.S. escaped liability by invoking North Carolina's 10-year statute of repose, which operated to bar all of the claims even though the government's misconduct had not come to light until well after the statutory period had run.
Studies Link Contaminant Chemicals to Certain Health Conditions
On August 10, 2022, President Biden signed into law the Camp Lejeune Justice Act of 2022, which finally allows veterans and their families who were harmed by contaminated water at Camp Lejeune to seek compensation in court.
There now exists substantial evidence connecting exposure to the chemicals at Camp Lejeune to several diseases, including kidney cancer, non-Hodgkin's lymphoma, multiple myeloma, leukemias, liver cancer, bladder cancer, Parkinson's disease, kidney diseases, systemic sclerosis/scleroderma, and cardiac defects.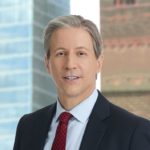 Exclusively focused on representing plaintiffs, especially in mass tort litigation, Eric Chaffin prides himself on providing unsurpassed professional legal services in pursuit of the specific goals of his clients and their families. Both his work and his cases have been featured in the national press, including on ABC's Good Morning America.