A Florida man recently filed a new Camp Lejeune lawsuit in the U.S. District Court for the Eastern District of North Carolina. He represents his late wife, who passed away in April 2021.
The plaintiff claims that his wife was exposed to contaminated water while residing at Camp Lejeune. She later suffered from injuries he believes were caused by the toxins in the water, and that eventually led to her death.
Plaintiff Argues Decedent's Cancer Caused by Contaminated Water
According to the complaint, the decedent resided at Camp Lejeune between June 1967 and March 1968. This falls within the time frame that was later determined, in the Camp Lejeune Justice Act (CLJA), to be a time when residents at the camp were exposed to dangerous toxins in the drinking water.
According to the CLJA, which was signed into law in August 2022, individuals who were harmed by the contaminated water between August 1, 1953, and December 31, 1987, may sue the federal government for compensation.
The plaintiff states that the decedent, after being exposed to the toxins in the water, later suffered from Sézary syndrome, an aggressive form of non-Hodgkin's lymphoma. She passed away because of this disease. He adds that there is "overwhelming evidence that the contaminants found in the water at Camp Lejeune caused, or were at least as likely as not the cause of, her injuries."
He now seeks compensation under the CLJA for the decedent's medical costs, loss of income, pain and suffering, and other injuries "caused by the federal government's decades-long failure to ensure the safety of the water at Camp Lejeune."
Contaminants Found in Water Treatment Plants at Camp Lejeune
Beginning in the mid-1950s, toxic chemicals from various sources—including unlined landfills, leaking storage tanks, and a local dry-cleaning business—seeped into the soil and groundwater of Camp Lejeune and contaminated many of the wells used to supply water-treatment plants. For many years, however, the U.S. Government failed to test the water for these contaminants.
After the Environmental Protection Agency (EPA) established regulations governing drinking water in 1979, the Camp Lejeune water utility began testing drinking water at the base. In the early 1980s, testing determined that drinking water at both the Hadnot Point plant and the Tarawa Terrace water treatment plant was contaminated by toxic chemicals.
These included trichloroethylene (TCE), a degreasing solvent for metal equipment, and perchloroethylene (PCE), a solvent primarily used in dry-cleaning operations, as well as benzene and vinyl chloride.
Despite early warnings from officials, no action was taken to close the contaminated wells until 1984 and 1985.
Government Takes Small Steps to Help Victims of Camp Lejeune
In 1997, the Agency for Toxic Substances and Disease Registry (ATSDR) concluded that individuals who served or resided at Camp Lejeune had been exposed to contaminants that were a public health hazard.
Later studies showed an association between exposure to these chemicals and health problems like neural tube birth defects, low birth weight, preterm birth, multiple myeloma, Hodgkin lymphoma, and cancers of the kidney, liver, esophagus, cervix, rectum, breast, and oral cavity.
In 2012, Congress enacted the Honoring America's Veterans and Caring for Camp Lejeune Families Act, which allowed veterans and their families who served at the base for at least 30 days between 1957 and 1987 to receive hospital care and medical benefits for 15 specified illnesses or conditions. Congress later expanded the pool of victims to those who had served or resided at the camp as early as August 1, 1953.
In January 2017, the U.S. Department of Veterans Affairs established that veterans exposed to the water at the base were entitled to certain disability benefits. This did not provide any compensation for non-servicemembers injured by the contaminated water, however.
It wasn't until the CLJA passed in 2022 that all individuals harmed by the toxic water were given a chance to seek compensation for their injuries. The act opened a 2-year window for individuals to file claims.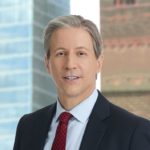 Exclusively focused on representing plaintiffs, especially in mass tort litigation, Eric Chaffin prides himself on providing unsurpassed professional legal services in pursuit of the specific goals of his clients and their families. Both his work and his cases have been featured in the national press, including on ABC's Good Morning America.