Following the Norfolk Southern Railway train derailment in East Palestine, Ohio,  hazardous chemicals spilled into the nearby soil and waterways.
According to ABC News, as of February 14th, 2023, four tributaries of the Ohio River over a space of 7.5 miles were contaminated. These contaminated waterways led to the deaths of at least 3,500 fish.
After the crash, health officials tracked a plume filled with contaminants floating down the Ohio River at about one mile an hour. On February 17, 2023, Ohio Governor Mike DeWine announced that the plume had "completely dissipated" according to the latest testing.
Residents in the area surrounding the incident location remain understandably concerned about water and air contamination and its potential effects on their health.
Norfolk Southern Train Derails, Leaks Hazardous Chemicals
The Norfolk Southern Railway train was traveling eastbound from Illinois to Pennsylvania when it went off the track in East Palestine on February 3, 2023. About 38 cars derailed and an additional 12 were damaged in a large fire that ensued. Ten of the cars were carrying hazardous materials including butyl acrylate and vinyl chloride.
Because these chemicals are combustible—and because the derailment caused damage to the cars and a big fire—officials were worried about a disastrous explosion that could send shrapnel up to a mile away.
Residents were ordered to evacuate, and on February 6th, 2023, crews conducted a "controlled release" of vinyl chloride from five derailed cars, which involved draining the chemical into a trough and then igniting the liquid. That set off a large plume above the village of East Palestine.
Residents were told the area was safe and that they could return home on February 8th, 2023.
The National Transportation Safety Board (NTSB) is investigating to determine the probable cause of the accident, which appeared to be mechanical failure. Meanwhile, Norfolk Southern in cooperation with the Environmental Protection Agency (EPA) has been conducting air and water quality tests in the area.
Plume of Butyl Acrylate Makes Its Way Down the Ohio River
On February 8, 2023, the EPA stated it found oily product leaking from a tank car and pooling onto the soil. Teams were dispatched to remove the product with a vacuum truck. Crews also discovered chemicals leaking into nearby waterways and have been working ever since to clean it up.
Norfolk Southern emergency response contractors installed booms and underflow dams to restrict the flow of contaminated product, but some of the butyl acrylate got past these measures and leaked into the Ohio River.
Butyl acrylate is a clear, colorless liquid with a strong, fruity odor that is used to manufacture polymers and resins, and in paint formulations. It can cause eye, skin, and respiratory tract irritation. Because it is soluble in water, it is more difficult to contain. Crews have been working to remove it, but meanwhile, officials were tracking a plume of it going down the Ohio River.
Is the Drinking Water Safe?
The Ohio River Valley Water Sanitation Commission and other agencies along the river actively sampled water at various locations close to drinking water intakes to ensure the safety of the drinking water supply.
Test results indicated that the chemical was present at levels below 3 parts per billion (ppb), which is below the 560 ppb considered hazardous by the Centers for Disease Control and Prevention (CDC). Residents living on private water systems were told to get their wells tested.
On February 17, 2023, Ohio Governor Mike DeWine announced that the "chemical plume of butyl acrylate in the Ohio River has dissipated." He added that water testing was no longer detecting the presence of any contaminant associated with the derailment.
Two residents of East Palestine have filed a lawsuit against Norfolk Southern Railway seeking payment for medical screenings and related care for anyone living within a 30-mile radius of the crash site.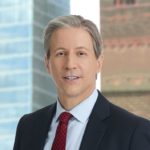 Exclusively focused on representing plaintiffs, especially in mass tort litigation, Eric Chaffin prides himself on providing unsurpassed professional legal services in pursuit of the specific goals of his clients and their families. Both his work and his cases have been featured in the national press, including on ABC's Good Morning America.