On February 3, 2023, a Norfolk Southern Railway train carrying goods from Illinois to Pennsylvania derailed in East Palestine, about 50 miles northwest of Pittsburgh. The accident caused a massive fire over the length of about 50 cars. No deaths or injuries were reported, but the train was carrying hazardous materials, including vinyl chloride.
Since the incident, the Environmental Protection Agency (EPA) has been on the scene. In a February 14, 2023 statement, regional administrator Debra Shore revealed that so far, air quality chemical testing has not detected any levels of health concern in the community.
The EPA is working to determine what impact the spill has had on surface and groundwater, however, and is assisting the state with sampling efforts at water treatment plants. Meanwhile, Governor Mike DeWine has pledged to hold Norfolk Southern accountable for the damages.

What Caused the Norfolk Southern Railway Derailment?
The Norfolk Southern train was traveling eastbound when it derailed in East Palestine, Ohio, at 8:54 p.m. local time. Thirty-eight rail cars derailed and a fire ensued that damaged an additional 12 cars. Twenty of the cars were carrying hazardous materials—11 of those cars derailed.
The (NTSB) is investigating to determine the probable cause of the accident. Surveillance video showed "what appears to be a wheel bearing in the final stage of overheat failure moments before the derailment," according to the NTSB. Investigators plan to further examine this wheel bearing.
Authorities were concerned because the cars containing hazardous chemicals were exposed to fire. An explosion could send shrapnel traveling up to a mile, so Governor Mike DeWine ordered an evacuation within a two-mile area of the site, and on Monday, February 6th, crews conducted a controlled release of toxic chemicals.
That release eliminated any concerns of an explosion, but it also sent toxic chemicals into the air. Damaged cars also caused spills into the soil and surrounding waterways.
EPA Monitoring Air and Water Quality in East Palestine
The EPA responded to the incident quickly, with crews discovering contaminated runoff on two surface water streams: Sulphur Run and Leslie Run. Norfolk Southern emergency response contractors installed booms and underflow dams to restrict the flow of contaminated water and collect floating product.
The EPA continues to work with Norfolk Southern to test air and water quality and to conduct cleanup where needed. According to a February 14, 2023 update, the agency had screened indoor air at 396 homes, with 100 homes remaining that had requested screening. Testers had found no evidence of unsafe levels of toxic chemicals in the air in those homes.
Residents, however, remain concerned about air toxicity. There were reports of animals becoming sick or dying suddenly after the incident, and the Ohio Department of Natural Resources noted that wildlife officers found dead fish at Leslie Run, Bull Creek, and a portion of the North Fork of Beaver Creek.
Water contamination also remains a concern. Testing has so far shown the drinking water to be safe, but Governor DeWine and health officials suggested residents of East Palestine drink bottled water for now, "out of an abundance of caution."
Norfolk Southern to be Held Accountable for Accident
On February 10, 2023, the EPA issued a general notice of potential liability letter to Norfolk Southern to "document the release or threat of release of hazardous substances, pollutants, or contaminants to the environment following the train derailment." The letter outlined the agency's cleanup actions and the potential to hold the railroad accountable for the associated costs.
Governor DeWine has also indicated that he believes Norfolk Southern should pay for the effects of the derailment, including medical screenings for serious illnesses potentially resulting from exposure to the toxic chemicals. "We're going to hold them accountable," he said. "We're going to make sure they pay for everything as we move forward."
On February 10, 2023, the Associated Press reported that two Pennsylvania residents had filed a lawsuit against the company calling for them to pay for medical screenings and related care for anyone living within a 30-mile radius of the site. It is expected that more such lawsuits will follow.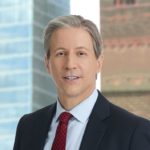 Exclusively focused on representing plaintiffs, especially in mass tort litigation, Eric Chaffin prides himself on providing unsurpassed professional legal services in pursuit of the specific goals of his clients and their families. Both his work and his cases have been featured in the national press, including on ABC's Good Morning America.