After the Norfolk Southern train derailment in East Palestine, Ohio, officials from the Environmental Protection Agency (EPA) assured residents that the local air was clear of unsafe levels of those toxic chemicals carried on the train.
Recently, an independent research team from the Texas A&M University Superfund Research Center and Carnegie Mellon University corroborated the EPA's conclusions for benzene, toluene, xylene, and vinyl chloride.
But they also found that levels of acrolein varied greatly in different sections of the area. Though they remained below minimal risk level, they occasionally rose above those typical of a town the size of East Palestine—with some areas testing at even higher levels than those found in Pittsburgh.
Researchers Caution About Chemicals in the Air Around East Palestine
When testing the air around East Palestine on February 20-21, 2023, researchers from Texas A&M and Carnegie Melon University found that levels of acrolein ranged from five times lower to three times higher than levels in downtown Pittsburgh, which has levels consistent with most U.S. cities.
They took note of these levels because East Palestine is a much smaller town that would not usually have such high levels.
Acrolein was not on the list of chemicals carried by the Norfolk Southern train that derailed, but it can be created during the combustion of fuels, wood, and plastics. The researchers were unclear on the source of the acrolein and suggested more studies on the matter.
They further recommended that the area be continually monitored, not just for acrolein but for other potential chemicals of concern in the air. They stopped short of saying there was any immediate safety hazard.
"The federal and state authorities are recognizing that they need to broaden the scope of their air quality measurements and to bring additional sensitive equipment," said Dr. Ivan Rusyn, a University Professor of toxicology in the VMBS and director of the Superfund Center. He added that the EPA is also deploying a mobile sampling laboratory that can do testing throughout the area, in addition to the fixed monitors they had previously.
The researchers may continue to help with additional air sampling to create a clearer picture of any potential safety issues in the area.
Acrolein Exposure Can Cause Side Effects
Acrolein is a colorless liquid chemical that turns into a vapor when heated. It has a strong, unpleasant smell, and enters the air from the burning of fossil fuels and tobacco smoke. It's also a by-product of fires and can be toxic to firefighters. The Department of Health and Human Services has determined that acrolein may be a human carcinogen.
Manufacturers use acrolein to make acrylic acid and to control plant and algae growth in irrigation canals. It also kills or controls microorganisms and bacteria in oil wells, liquid hydrocarbon fuels, cooling-water towers, and water treatment ponds.
Exposure to acrolein can cause dizziness, lightheadedness, nausea, headaches, and passing out. Breathing low levels of acrolein can irritate the nose and sinuses, windpipe, and voice box. It can also cause fluid buildup in the lungs.
Eating or drinking the chemical can cause burns to the lips, mouth, throat, esophagus, and stomach. In the eyes, acrolein can cause severe irritation or burns.
On February 10, 2023, the Associated Press reported that two Pennsylvania residents had filed a case calling for the rail operator to pay for medical screenings and related care for anyone living within a 30-mile radius of the site.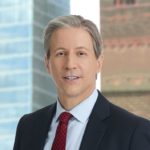 Exclusively focused on representing plaintiffs, especially in mass tort litigation, Eric Chaffin prides himself on providing unsurpassed professional legal services in pursuit of the specific goals of his clients and their families. Both his work and his cases have been featured in the national press, including on ABC's Good Morning America.