An Alabama woman has filed a new Elmiron lawsuit in the U.S. District Court for the Northern District of Alabama. She claims that after taking the medication, she suffered from serious injuries.
Plaintiff Takes Elmiron for Years, Then Diagnosed with Permanent Retinal Injury
According to her complaint, the plaintiff was prescribed Elmiron (pentosan polysulfate sodium or PPS) in 2001 to treat her medically diagnosed painful bladder (interstitial cystitis.)
Interstitial cystitis (IC) is a chronic condition causing bladder pain and pressure and sometimes pelvic pain, as well as frequent urges to urinate and possibly pain during intercourse. These symptoms can range from mild to severe and may flare up at certain times and then subside at others.
Doctors don't know what causes IC, but believe it may be related to a defect in the protective lining (epithelium) of the bladder that allows toxic substances in the urine to irritate the bladder wall. Women over the age of 30 are more at risk for the disorder, as are those with other chronic pain disorders like irritable bowel syndrome (IBS) and fibromyalgia.
Elmiron was the first drug approved by the FDA specifically to treat IC. It helps to relieve pain and other related symptoms, allowing patients to live a more normal life. The drug came onto the market in 1996 and offered thousands of patients a welcome option, but recent research has suggested that long-term use of the drug can cause vision damage.
The plaintiff took Elmiron from 2001 on and recently began to suffer from visual symptoms. In June 2020, she was diagnosed with permanent retinal injury and vision loss due to Elmiron toxicity.
Manufacturer Waited Years Before Adding Warning
When Elmiron first came onto the market, it contained no warnings about potential vision problems. Before June 2020, when the plaintiff was diagnosed with a retinal injury, that was still the case. It wasn't until June 16, 2020, that the manufacturers added a warning regarding "retinal pigmentary changes" to the drug's warning label.
Indeed, research has revealed long-term intake of Elmiron could be toxic to the retina, the thin layer of tissue at the back of the eye that receives light from the lens and converts it to signals sent to the brain.
In the spring of 2018, Dr. Neiraj Jain and colleagues wrote a letter to the editor of the Journal of Urology alerting readers to unhealthy vision changes they were seeing among their patients taking Elmiron for long periods.
In April 2019, researchers published a case series identifying 10 patients using Elmiron who showed symptoms of pigmentary maculopathy, a unique type of vision damage that involved the development of excess capillaries or pigmented spots over the macula, which sits at the center of the retina.
Scientists at Kaiser Permanente later found that of the 140 of their patients who had taken Elmiron for a minimum of 5 years, 22 (24 percent) showed eye damage. The greater the quantity of Elmiron taken, the greater the damage. In a 2019 study, researchers found that patients taking Elmiron for seven years or longer were at an increased risk of having maculopathy.
These studies coupled with pressure from the Interstitial Cystitis Network (ICN) compelled the manufacturers to finally add a warning about potential vision damage to the Elmiron label. Users are now advised to get annual vision check-ups to watch for any potential vision damage.
The plaintiff brings counts of negligence and failure to warn and seeks compensatory and punitive damages. Her Elmiron lawsuit joins over 100 more pending actions in courts across the country. The U.S. Judicial Panel on Multidistrict Litigation (JPML) heard arguments concerning the potential consolidation of federally filed Elmiron lawsuits on December 3, 2020.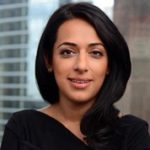 Exclusively focused on representing plaintiffs—especially in mass tort litigation—Roopal Luhana prides herself on providing unsurpassed professional legal services in pursuit of the specific goals of her clients and their families. While she handles complex cases nationwide on behalf of consumers, Ms. Luhana resides with her family in Brooklyn, New York.