In March 2019, a California jury awarded plaintiffs in a Roundup lawsuit $80 million in damages. This was the first bellwether Roundup lawsuit to go to trial in the consolidated MDL. The plaintiff claimed he developed cancer after spraying Roundup for three decades.
In a two-part trial, the jury first concluded that exposure to Roundup caused the man's non-Hodgkin's lymphoma, and secondly that manufacturer Monsanto had known about the risks for years but failed to provide adequate warnings to consumers.
Monsanto and parent company Bayer challenged this verdict, stating that there was insufficient evidence to justify it and that the amounts awarded were excessive.
On June 28, 2019, the U.S. District Court for the Northern District of California issued a pretrial order regarding a hearing on these post-trial motions, stating that the parties should be prepared to focus on the compensatory and punitive damages awarded in the case. In a follow-up pretrial order issued on July 1, 2019, the court listed additional questions the parties should be prepared to discuss.
On July 15, 2019, U.S. District Judge Vince Chhabria issued an order denying the defendants' request for a new trial, and reducing the award to $25 million.
Parties Ordered to Prepare to Discuss Damages Awarded in Roundup Verdict
Addressing the compensatory damage award, the parties presented addressed whether California law requires a trial court to take an active role in reviewing the excessiveness of a damages award. The plaintiffs also presented evidence from trial that supports the award of non-compensatory damages.
Addressing the punitive damage award, the parties addressed what they believe is the appropriate ratio of compensatory to punitive damages. Monsanto, in particular, argued that the punitive damage award was excessive.
Following the hearing, Judge Chhabria denied Monsanto's request for a new trial. He further determined that the approximately $5 million compensatory damages award was sufficiently supported by evidence. Lastly, he ruled that the jury acted reasonably in awarding punitive damages but reduced the punitive damages award from $75 million to $20 million.
Bayer Losing Three Key Roundup Cases
This is not the only verdict that Bayer and Monsanto are fighting— they are also fighting two other large Roundup lawsuits decided in favor of the plaintiffs:
In the summer of 2018, the first Roundup trial resulted in a $289 million verdict for a former school groundskeeper who claimed to have developed non-Hodgkin's lymphoma after using Roundup for years. That verdict was later reduced to $78 million.
In May 2019, a third Roundup trial ended in a $2 billion verdict for the plaintiffs, a husband and wife who had both developed cancer after using Roundup.
After the first three cases were decided in favor of the plaintiffs, Judge Chhabria, who is overseeing the consolidated litigation, ordered the parties into mediation to determine if settlement agreements may be reached.
Bayer and Monsanto face about 15,000 Roundup lawsuits nationwide.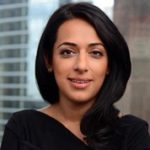 Exclusively focused on representing plaintiffs—especially in mass tort litigation—Roopal Luhana prides herself on providing unsurpassed professional legal services in pursuit of the specific goals of her clients and their families. While she handles complex cases nationwide on behalf of consumers, Ms. Luhana resides with her family in Brooklyn, New York.