A Texas man recently joined the consolidated firefighting foam litigation in South Carolina. He filed his lawsuit in the U.S. District Court for the District of South Carolina on May 19, 2021, naming several manufacturers of firefighting foams as defendants, including 3M Company; Chemguard, Inc; DuPont De Nemours Inc.; and The Chemours Company.
Plaintiff Diagnosed with Prostate Cancer
According to his complaint, the plaintiff used aqueous film-forming foams (AFFFs)—designed to extinguish petroleum-based fires—in training and to extinguish fires during his working career as a civilian firefighter in Dallas, Texas. His period of exposure lasted from about 1981 through 2019.
AFFFs contain toxic chemicals known as per- and polyfluoroalkyl substances (PFAS) like perfluorooctanoic acid (PFOA) and perfluorooctane sulfonic acid (PFOS). These chemicals can bind to proteins in human blood and then remain for long periods.
The plaintiff states that the defendants were well aware of how toxic these chemicals were decades ago, but failed to properly warn consumers. He believes that because of his exposure to these chemicals over many years, he suffered their carcinogenic effects. He has been diagnosed with prostate cancer and seeks to hold the defendants liable for both compensatory and punitive damages.
Defendants Ignore Evidence of PFAS Toxicity
AFFFs came onto the market in the U.S. in the mid-1960s and rapidly became the primary firefighting foam in the country. Exposure to the chemicals in these foams has been linked to several health conditions including kidney cancer, testicular cancer, liver cancer, testicular tumors, pancreatic cancer, prostate cancer, leukemia, lymphoma, bladder cancer, thyroid disease, and infertility.
By at least the end of the 1980s, the defendants knew from their own testing that PFAS could cause cancer in animals. They also observed an elevated incidence of certain cancers and other adverse health effects among workers exposed to these materials. They failed to provide this data to government entities, however, or to disclose the information to the public.
By at least 2010, additional research and testing by the defendants revealed multiple potential health impacts among workers exposed to PFAS such as increased cancer incidence, hormone changes, lipid changes, and thyroid and liver impacts.
An expert science group as the "C8 Science Panel" determined that human exposure to 0.05 parts per billion or more of one PFOA had "probable links" with certain human diseases, including kidney cancer, testicular cancer, ulcerative colitis, thyroid disease, preeclampsia, and medically diagnosed high cholesterol.
New Short-Chain PFAS May Not Be Any Safer
From about 2015 on, the Environmental Protection Agency (EPA) worked with manufacturers to get them to phase out the use of toxic PFAS. Unfortunately, the defendants are now manufacturing or using so-called "short-chain PFAS," which based on recent evidence, maybe just as toxic and dangerous to human health as the original PFAS.
Because of the consistent and prevalent use of PFAS in products like firefighting foams, the Agency for Toxic Substances and Disease Registry (ATSDR) states that most people in the U.S. have PFAS in their blood, particularly PFOS and PFOA. Fortunately, as the use of these chemicals has declined and water filtration has improved, some blood levels of the toxins have declined as well.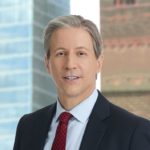 Exclusively focused on representing plaintiffs, especially in mass tort litigation, Eric Chaffin prides himself on providing unsurpassed professional legal services in pursuit of the specific goals of his clients and their families. Both his work and his cases have been featured in the national press, including on ABC's Good Morning America.