In a recent news release, the Environmental Protection Agency (EPA) indicated that it's taking two important steps to address the presence of per- and polyfluoroalkyl substances (PFAS) in the environment.
These chemicals have been detected in drinking water in several communities over the past few years, and are also present in aqueous film-forming foam (AFFF), which has been used for decades on by firefighters to put out petroleum-based fires on military bases, airports, and elsewhere.
PFAS are dangerous to human health and have been linked to an increased risk of cancer and other health issues.
EPA Takes Steps to Address PFAS Contamination in Drinking Water
To help reduce the risk from PFAS in the environment, the EPA stated it has:
Issued a memo detailing an interim National Pollutant Discharge Elimination System (NPDES) permitting strategy for addressing PFAS in EPA-issued wastewater permits.
Released information on progress in developing new analytical methods to test for PFAS compounds in wastewater and other environmental media.
The agency noted that these actions will "help ensure that federally enforceable wastewater monitoring for PFAS can begin as soon as validated analytical methods are finalized."
The new strategy advises EPA permit writers to consider including PFAS monitoring at facilities "where these chemicals are expected to be present in wastewater discharges, including from municipal separate storm sewer systems and industrial stormwater permits." It also encourages the use of best management practices to control or stop the discharge of PFAS and includes recommendations to facilitate information sharing.
The EPA is working with the U.S. Department of Defense to test for PFAS in wastewater and other environmental media, such as soils. Currently, the agency can measure 29 PFAS chemicals, and in February 2020, proposed regulating PFOA and PFOS—the two most researched types of PFAS—in drinking water. It is also working on a proposed rule to designate both of these as hazardous substances under CERCLA.
Firefighters Exposed to Higher Levels of PFAS
AFFFs have been used at military bases for decades, but studies have found that they can contaminate nearby soil and water—including drinking water sources—with PFAS. Firefighters exposed to these chemicals for years may also be at an increased risk of certain types of cancer, and many have filed personal injury lawsuits in an attempt to recover damages from the manufacturers.
Traditionally, AFFFs contained perfluorooctanesulfonic acid (PFOS) or perfluorooctanoic acid (PFOA), both of which persist in the environment and don't break down. Because of their health effects, these chemicals are largely being phased out in the U.S., but they remain in the environment and the bodies of most Americans, with higher levels found in firefighters.
In October 2019, IPEN, a non-profit network of public interest groups, published a white paper detailing the results of a study that found "unequivocal evidence…that firefighters using aqueous film-forming foams (AFFF) have unacceptably elevated blood levels of both PFHxS and PFOS."
An earlier 2015 study also found that blood concentrations of PFOS and PFHxS were positively associated with years of jobs requiring contact with AFFFs.
In December 2018, all federally filed firefighting foam lawsuits were centralized in the District of South Carolina for pre-trial proceedings.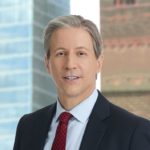 Exclusively focused on representing plaintiffs, especially in mass tort litigation, Eric Chaffin prides himself on providing unsurpassed professional legal services in pursuit of the specific goals of his clients and their families. Both his work and his cases have been featured in the national press, including on ABC's Good Morning America.