A Florida woman, as putative personal representative of the estate of a deceased plaintiff, recently filed a hair relaxer lawsuit in the U.S. District Court for the Middle District of Florida. The representative claims the plaintiff was seriously injured as a result of her use of certain hair-relaxing products manufactured by L'Oréal, Soft Sheen-Carson, Strength of Nature, and Godrej Consumer Products.
The Decedent Used Hair Relaxing Products for Years, then Developed Ovarian Cancer
According to the complaint, the deceased plaintiff started using the defendants' products in the late 1980s and frequently used them up to and through the time of her diagnosis and treatment for ovarian cancer. The products she used included Mizani, TCB, and TCB Naturals.
The decedent regularly applied the products to her scalp as directed by the products' instructions, then left the products on her hair for the time allotted.  According to the complaint, there was never any indication that this normal use could cause her to develop ovarian cancer.
Around May 3, 2016, she was diagnosed with ovarian cancer, which eventually led to her death. The representative plaintiff claims the decedent's disease was caused by her frequent use of hair-relaxing products.
Scientific Studies Link Frequent Use of Hair Relaxers to Increased Risk of Cancer
Like other plaintiffs who have filed similar lawsuits, this plaintiff notes that hair straightening and relaxing products contain "endocrine-disrupting chemicals" or EOCs that can interfere with the human endocrine (hormonal) system.
These include plasticizing ingredients like di-2-ehylhexylphthalate (DEHP), which has been classified by the International Agency for Research on Cancer (IARC) as possibly carcinogenic to humans.
When DEHP enters the body, it breaks down into specific metabolites. DEHP and these metabolites have been implicated in reproductive tract abnormalities, including cancer and infertility, in animal studies.
The plaintiff also points to recent studies that have linked frequent use of hair relaxing and straightening products to an increased risk of female reproductive cancers. One 2021 study found that frequent use (over four times a year) of hair straighteners/relaxers or pressing products in the past year was associated with an increased risk of ovarian cancer.
In a 2022 study, researchers found that those women who had used straightening products in the previous 12 months were almost twice as likely to have developed uterine cancer than those who didn't. Those who used them more than four times in the previous year were about 2.5 times more likely to develop uterine cancer.
Number of Hair Relaxer Lawsuits Growing
This case joins several others filed in recent months. All of the plaintiffs raise similar allegations against product manufacturers, claiming they failed to provide adequate warnings about the dangers associated with the frequent use of these products.
In response to the growing number of lawsuits filed—and because they all share similar questions of fact—on February 6, 2023, the U.S. Judicial Panel on Multidistrict Litigation (JPML) ordered all federally filed cases to be centralized in the Northern District of Illinois for coordinated pre-trial proceedings.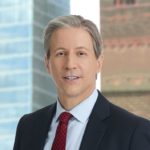 Exclusively focused on representing plaintiffs, especially in mass tort litigation, Eric Chaffin prides himself on providing unsurpassed professional legal services in pursuit of the specific goals of his clients and their families. Both his work and his cases have been featured in the national press, including on ABC's Good Morning America.