JUUL Labs, the market leader in e-cigarette products, has been under intense scrutiny lately as authorities crackdown on the company's alleged marketing of their products to young people.  In addition to creating kid-friendly flavors, including chocolate cupcake, crème, mango, and tutti-frutti, JUUL was said to have used advertising that was "patently youth-oriented," according to a 2019 study from Stanford University.
JUUL "pods" have also been found to deliver a higher dose of nicotine than many other similar e-cigarette solutions, which causes the user to become addicted more quickly.  Now, according to a recent study, it seems that not only are the pods delivering a higher amount of nicotine, but the nicotine is also being absorbed in the bloodstream at a higher rate than with other solutions.
Study Shows JUUL Users Get More Nicotine, Faster
For the study, scientists from Penn State College of Medicine recruited six JUUL users and had them abstain from smoking for four days, and from using any nicotine-containing product (electronic nicotine delivery systems or ENDS) for at least 14 hours before the one-day laboratory visit.  Users then puffed their own e-cigarette products every 20 seconds for 10 minutes.
Scientists took blood samples from the participants while they were vaping (at 1, 2, 4, 6, 8, and 10 minutes) and again 2 and 5 minutes after vaping.  They then analyzed the blood samples for nicotine and its related byproducts.  The users also rated their withdrawal symptoms before and after vaping.
The results showed that the users received a mean nicotine boost of 28.6 ng/mL in a mean of 8.7 minutes.  This was higher and faster than that obtained from other types of ENDS products—almost three times as high as that obtained from most of the e-cigarettes previously studied, according to study author Jessica Yingst.
The users also reported a higher nicotine dependence on their JUUL devices, compared with those using other ENDS devices.  The researchers noted that this was the first study, to their knowledge, to show that "JUUL delivers a higher and faster boost in blood nicotine than has been reported for most other ENDS devices."
The researchers also stated in a press release that the high addiction potential of JUUL products is a good reason to avoid them.
Teens Often Unaware of Highly Addictive Nature of JUUL
The highly addictive nature of JUUL, combined with its sleek and discreet design and fruity flavors, are all believed to have been factors in getting thousands of young people addicted to nicotine.  The U.S. Surgeon General states that between 2011 and 2015, e-cigarette use among middle and high school students increased by 900 percent.  In 2018, more than 3.6 million U.S. youth, including 1 in 5 high school students and 1 in 20 middle school students were using e-cigarettes.
Unfortunately, many of these students remain unaware of the dangers of using e-cigarettes, believing them to be much safer than traditional cigarettes.  In a 2019 study from the journal Pediatrics, researchers found that many teens who used e-cigarettes were unaware of the nicotine they were ingesting.  That study also showed that participants using devices like JUUL had significantly higher levels of nicotine by-products in their systems.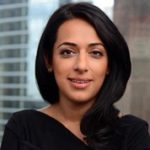 Exclusively focused on representing plaintiffs—especially in mass tort litigation—Roopal Luhana prides herself on providing unsurpassed professional legal services in pursuit of the specific goals of her clients and their families. While she handles complex cases nationwide on behalf of consumers, Ms. Luhana resides with her family in Brooklyn, New York.