On July 31, 2017, an Arkansas woman filed a Physiomesh lawsuit against manufacturers Ethicon and parent company Johnson & Johnson (J&J). The case was filed in the Eastern District of Arkansas, but transferred to the Northern District of Georgia where there is a coordinated Multi-District Litigation (MDL).
The plaintiff claims that after being implanted with the Ethicon Physiomesh, she suffered serious injuries. She seeks in excess of $75,000 in compensatory and punitive damages.
Physiomesh Used to Repair Hernia Creates Severe Reaction
According to her complaint, the plaintiff underwent a hernia repair on June 29, 2011. Her surgeon used the Physiomesh device to help support stretched and misplaced tissues. A hernia is an area where tissues, muscles, and organs can protrude, sometimes becoming visible as a "bulge" under the skin. It does not always cause symptoms, but it can create pain and even an intestinal blockage.
Ethicon created and sold Physiomesh for the purpose of repairing ventral hernias, which are hernias that develop in the abdominal area. Physiomesh is a net-like device or "patch" that helps support distended tissues. Surgeons place it over the weakened area, after which it is supposed to incorporate into the body to serve as a permanent solution.
The plaintiff states that after being implanted with the mesh, she suffered from a severe adverse reaction, and had to go undergo additional medical treatments due to complications from the product. She claims that the defendants were negligent in failing to properly test the device before releasing it on the market, and for failing to provide doctors and patients with adequate warnings of the serious risks.
Physiomesh 5-Layer System Promotes Migration and Infection
There are currently about 100 cases pending in the Georgia Physiomesh MDL, with all plaintiffs making similar claims. At the center of the problem is how the mesh was made. Physiomesh has a unique 5-layer design that the defendants advertised as being superior to other products on the market, but actually seems to be inferior.
There are two outer layers of "Monocryl" film with two underlying layers of polydioxanone film. At the center is the actual polypropylene mesh. The other layers were supposed to prevent or minimize adhesion and inflammation, and facilitate mesh incorporation into the body.
Instead, plaintiffs claim the multi-layer coating works to prevent fluid escape, which can lead to the formation of seromas (pockets of fluid). These, in turn, result in a breeding ground for bacteria, increasing the risk of infection. The layers also seem to prevent incorporation into the body, resulting in migration and tissue damage, as well as improper healing of the hernia.
Ethicon Withdraws Physiomesh from the Market
In May 2016, the defendants issued an urgent field safety notice, warning doctors and hospitals that the Physiomesh product had been associated with higher recurrence and reoperation rates after laparoscopic placement than other similar mesh products. They advised doctors to avoid using the products and to return them to the company.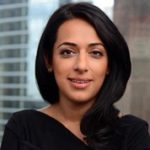 Exclusively focused on representing plaintiffs—especially in mass tort litigation—Roopal Luhana prides herself on providing unsurpassed professional legal services in pursuit of the specific goals of her clients and their families. While she handles complex cases nationwide on behalf of consumers, Ms. Luhana resides with her family in Brooklyn, New York.