Thousands of patients who were implanted with an inferior vena cava (IVC) filter to help prevent blood clots have filed lawsuits to recover damages after these filters malfunctioned and caused injuries. Currently, manufacturer C. R. Bard is defending over 3,500 of these lawsuits, while Cook Medical is defending nearly 2,000.
Meanwhile, the New England Journal of Medicine (NEJM) published a new case study detailing the problems suffered by a 28-year-old woman who was implanted with an IVC filter and then ended up in the hospital with serious complications.
Woman Implanted with an IVC to Prevent Pulmonary Embolism
According to the report, the woman went to the emergency room because she was experiencing pain in her right flank. Doctors reviewed her medical history, which showed she was implanted with an IVC filter 10 years before because of a pulmonary embolism (PE) caused by deep vein thrombosis (DVT).
A DVT is a condition in which blood may clot in the deep veins in the legs. If one of those clots breaks free and travels back toward the lungs, it can lodge in the lungs, causing a pulmonary (lung) embolism (blood clot), which can be a life-threatening condition. Though some patients can be treated with blood-thinning drugs to help prevent future clots, some people are not good candidates for the medications and may be implanted with an IVC filter instead.
An IVC filter is generally a small, spider-like device made up of a sort of "cage" with struts or "legs," and implanted in the inferior vena cava—the main vein that travels from the legs back to the heart and lungs. There, it is designed to capture and trap blood clots, holding them until they dissipate so they can't harm the lungs.
IVC Fractures and Migrates, Causing Pain
The woman in the case study had been implanted with an IVC filter to help prevent a future PE, but when doctors ran a CT scan, they found that the device had fragmented in multiple places. Several of the struts had broken off. One had migrated to land about one millimeter from the ureter. Doctors wondered if this may be causing the flank pain. Two other struts had also broken off and moved, one of them to the heart muscle.
The doctors decided to remove the one filter after which the patient's flank pain went away. Doctors were unable, though, to remove the other two struts. After considering the risks, they determined that it would be safer for the patient to leave them in place.
FDA Recommends IVC Filter Removal After 29-54 Days
Because of the risks associated with IVC filters, the FDA released a public safety communication in 2014 warning doctors that the devices should be removed as soon as possible to protect patients from serious side effects. More specifically, they recommended removal within 29-54 days after implantation, as long as the patient's risk of pulmonary embolism (blood clot in the lung) had subsided.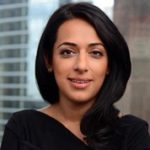 Exclusively focused on representing plaintiffs—especially in mass tort litigation—Roopal Luhana prides herself on providing unsurpassed professional legal services in pursuit of the specific goals of her clients and their families. While she handles complex cases nationwide on behalf of consumers, Ms. Luhana resides with her family in Brooklyn, New York.