A Stryker LFIT V40 femoral head lawsuit was filed in the Western District of Pennsylvania and transferred to the District of Massachusetts, where all federally filed Stryker LFIT lawsuits have been coordinated. Plaintiffs are residents of Pennsylvania and filed the case on April 28, 2017.
The plaintiff claims that after he was implanted with a hip replacement system that included the Stryker Accolade and LFIT V40 components, he suffered from serious complications. As a result, he had to go through revision surgery to have the implant replaced.
Plaintiff Suffers Metallosis from Stryker Hip Implant
On April 10, 2006, the plaintiff underwent a complete hip replacement surgery. The surgeons implanted the Accolade TMZF hip system, which is designed to work with the Stryker LFIT V40 femoral head. The femoral head is the component that fits into the hip socket and attaches to the femoral stem, which goes into the thigh bone.
In 2016, the plaintiff started experiencing significant pain and discomfort in the area of the implant. He went back to the doctor to find out what might be causing his symptoms. The initial workup showed that there was no infection in the hip implant and that it was still positioned correctly.
A further diagnostic workup performed in July 2016, however, showed that the plaintiff had increased levels of metal ions in the blood, specifically, cobalt and chromium, which are the materials used to make the Stryker LFIT V40 component.
This condition is called "metallosis," and reveals corrosion and fretting between the metal components in the implant.
Surgeon Finds Serious Damage During Revision Surgery
Stryker recalled certain lots of the LFIT V40 component in August 2016. They stated that products manufactured prior to 2011 had been associated with higher than normal reports of taper-lock failure and excessive metal debris. The taper lock is the part of the implant that connects the femoral head with the femoral neck.
Because the Stryker LFIT V40 is made of cobalt and chromium, when it rubs against other metal components in the hip implant, it can cause corrosion and shedding of metal shards into the joint tissue. Metal ions can also leach into the bloodstream, causing metallosis.
Because of these complications, the plaintiff had to undergo revision surgery on October 18, 2016. The surgeon reported that he found a large black pseudotumor (a pocket of fluid buildup) during the corrective surgery, as well as black metallic debris and a gross failure between the implant's stem and the Stryker LFIT V40 femoral head.
The plaintiff brings claims of design and manufacturing defect, failure to warn, negligence, and breach of warranties, and seeks both compensatory and punitive damages.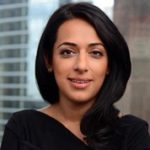 Exclusively focused on representing plaintiffs—especially in mass tort litigation—Roopal Luhana prides herself on providing unsurpassed professional legal services in pursuit of the specific goals of her clients and their families. While she handles complex cases nationwide on behalf of consumers, Ms. Luhana resides with her family in Brooklyn, New York.