The Centers for Disease Control and Prevention (CDC) states that in 2016, about 8 in 10 middle and high school students—more than 20 million young people—had seen e-cigarette advertising. Between 2011 and 2015, e-cigarette use among students increased 900 percent, according to the U.S. Surgeon General, and in 2018, one in five high school students were using these products.
JUUL and other e-cigarette manufacturers are now facing new lawsuits filed not only by individual plaintiffs, but also by schools.  So far, school districts in Missouri, New York, and Kansas have filed cases against JUUL, and more recently, the Quakertown Community School District in Bucks County, Pennsylvania, filed a new complaint against JUUL in the U.S. District Court for the Eastern District of Pennsylvania.
Plaintiff Claims JUUL Responsible for Marketing to Students
According to the new lawsuit, the Quakertown school district has expended and continues to significant resources combating student vaping.  The administrative staff has "expended substantial institutional energy, resources, and money in the monitoring, educating and disciplining of students as a result of the significant increase in vaping in school."
The school district blames JUUL for the increase in e-cigarette use among students, noting that the company targeted schools in their marketing efforts.  During so-called "educational" presentations to students, JUUL raised awareness of its vaping products and directly misrepresented or omitted the health risks associated with them.
JUUL representatives allegedly described their products as "much safer than cigarettes," "totally safe," and "better" for kids to use during presentations to school students.  The company also contracted with organizations like LifeSkills, Inc. to supposedly provide health education to youth, and sponsored a summer camp for kids in grades 3-12, for which they received data on the students' knowledge of health and risky behaviors.
"JUUL's 'educational' programs were marketing events, plain and simple," the plaintiff states.  "JUUL sought to raise awareness of its flavored, low-irritation nicotine products with students.  Not surprisingly, that very same tactic—purportedly educating youth about the dangers of a product in order to market the product to them—was used by big tobacco in marketing traditional cigarettes."
Plaintiff Says JUUL Designed Flavored Products for Youth
JUUL also targeted young people by developing flavored e-cigarette products.  The company promoted an array of "youth-oriented" flavors, including mango, fruit medley, "cool" mint, "cool" cucumber, and crème Brulee.
A recent 2019 study found that young people believe advertisements for flavored e-cigarette products are intended for them.  "Youth believe ads for flavored e-liquids target individuals about their age," study authors wrote, "not older adults."  In one survey, 81 percent of youth e-cigarette users reported that the first product they used was flavored, and 81.5 percent said that the flavoring was the reason they used the product.
The U.S. Food and Drug Administration (FDA) banned flavored traditional cigarettes in 2019, stating that flavored cigarettes "are a gateway for many children and young adults to become regular smokers."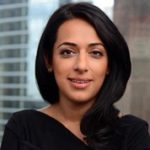 Exclusively focused on representing plaintiffs—especially in mass tort litigation—Roopal Luhana prides herself on providing unsurpassed professional legal services in pursuit of the specific goals of her clients and their families. While she handles complex cases nationwide on behalf of consumers, Ms. Luhana resides with her family in Brooklyn, New York.