November is National Alzheimer's Disease Awareness Month and in an effort to fight this debilitating disease that affects an estimated 5.7 million Americans, Chaffin Luhana LLP team members, Jessica Szumla and Michelle Spencer interviewed Michele Beck to discuss her experience caring for her husband after he was diagnosed with frontotemporal dementia.
What are some of the things you struggle with in caring for your husband?
I have fear for the future. I had to quit my job to stay home and be with him. Now we're living on his disability benefits.
It's a very humbling experience right now. My daughters pitch in and we pull together where we can.
I'm between a rock and a hard place. I need to work. I need another paycheck, but I can't afford to really have anybody come in here to watch him.
Nobody knows him like I do, and he's getting temperamental. He can have temper tantrums, and I wouldn't want anybody to be here for that. We've had a couple of episodes that weren't too pretty.
We just do the best we can. I try not to really tick him off because he's just frustrated with not being able to work. He thinks he can, but he can't.
It's frustrating to me because we didn't have any golden days. These are the golden days for us.
You get married for better or for worse, richer or poorer. He would've been there for me. I feel like it's my duty. I'm going to hang in there and help him as long as I can.
What kinds of memory problems does he experience?
He remembers a lot of the old part of his memory. It's his short-term memory that's affected.
If I said, "Could you bring me a fork please?" He'll go to the cabinet and point at stuff, but it's the wrong thing. He'll bring you something totally different.
He lies nowadays. He hoards. He's OCD now. This is a man who never did any of this. His filters are coming off.
When we go to a restaurant, he holds his glass up and says, "Hey," to the waiters and waitresses. This is a man who was always soft-spoken and quiet. Now he wants to talk to everybody.
He laughs at inappropriate things. Like if somebody gets punched in a movie, he just laughs out loud.
He went out and bought a Mercedes and didn't tell me. This was the beginning of the craziness. It wasn't a brand new Mercedes, but with any big decision, we always talked about it first.
We always went together and decided what we were going to do. But then things were changing, and he was hiding things and moving money around, opening up checking accounts.
His language is getting really hard to navigate, and it's going to get worse. They say eventually, he probably will lose the ability to speak.
These patients often have incontinence problems later on. They lose the ability to remember the basic things they need to do like brush their teeth. They forget to eat or go to the bathroom.
They lose the ability to swallow. Then if you don't swallow, you don't eat, and that's the end of life.
Right now, it's as good as it's going to get. We just take it day by day.
What sorts of issues are you currently facing with his dementia?
I have to make sure he eats. You ask him if he's eaten something, and he says, "I had a little something." But he can't tell you what he ate.
He'll show me a bowl, so I know that was cereal. Or he'll try to see if there are remnants in the garbage.
He had cereal for breakfast, and then when it was going onto 1 o'clock, I said, "Do you want to eat?" He said, "No, I had something."
This is another worry. If I go out, is he going to eat?
I always try to have things in the refrigerator so he can just go get it.
I don't want him cooking because I don't think he remembers how to do that. But he goes in and out of the refrigerator at least 25 to 30 times a day, just looking.
I said, "What are you looking for?" He doesn't know. He doesn't say anything. He just opens up the refrigerator, looks in, then he goes to the cupboard, and he opens those up, he looks in, then shuts them.
It's like I have a son. He's reverting back to being a child.
How does being a caretaker impact your daily life?
Mentally, it's draining. He's not supposed to drive even though he still does. He sneaks out when I'm not here.
I like my independence. I like to be able to go and shop and do what I want to do. Even though I still do some of that, I have to think about him.
I have to make sure everything's prepared or laid out. He wants to go everywhere with me.
I like to do things, sometimes, on my own, like go out with my girlfriends. I still do, and I know I have to carve out a life for myself, but then again I have to think of him also. I can't just leave him at home all the time either.
When we used to be able to go on vacations, he'd be the driver and navigator. I could just sit back and hold the map and find the next rest stop. That was my job.
No more. I have to navigate. I'm supposed to be the driver, where I used to depend on him for all that.
That's the hard part. Am I making the right decisions? Will I make the right decisions down the road? I'll do the best I can, but is there a better way to do things?
I always tell my daughters, "It feels like I'm out in a boat, and I'm rowing by myself, and there's no one around to help me." I've got to figure it out. I've got to navigate everything, and it's hard.
He was always everybody else's rock. Now I don't have that rock anymore.
Even after this conversation, I'll be okay. I'll go on with my day, do what I have to do, and then I just may have a moment where the tears roll down. I'll wipe them, and I'll keep it moving.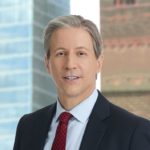 Exclusively focused on representing plaintiffs, especially in mass tort litigation, Eric Chaffin prides himself on providing unsurpassed professional legal services in pursuit of the specific goals of his clients and their families. Both his work and his cases have been featured in the national press, including on ABC's Good Morning America.