November is National Alzheimer's Disease Awareness Month and in an effort to fight this debilitating disease that affects an estimated 5.7 million Americans, Chaffin Luhana LLP team members, Misty Kirbaugh and Julianne Huber interviewed Ariana Beck about her experience with her father's diagnosis with frontotemporal dementia and the effects this had on her family.
When did you start to suspect that your father had dementia?
Since about three years ago, we would ask my father questions such as if he wanted to meet up with lifelong friends, friends that he'd known for years, and he would ask, "Who are they?"
My mom was really concerned because his job was very dangerous. He used to work for the gas company, and he had to make sure that buildings were safe.
It was unsafe for him to be working with a memory condition, so my mom figured it was time for him to get tested.
It was a gradual change. He started forgetting more, started asking more questions about who certain people were, why we were doing certain things. He just started to become more and more forgetful.
How did your father cope with his gradual loss of independence?
My father lost his job and his ability to drive. He worked at the same company for 38 years, and he actually wanted to retire there within two years.
He was a hard worker, never took days off. Sitting at home doing nothing just bothered him.
He still tries to drive. He's not supposed to. We had to take him to the doctor to take his license away.
He kept saying, "I don't want them to take my keys away. I can't sit at home and do nothing by myself."
Every day my mom takes him somewhere, asks him where he wants to go. He usually just gets in the car and sits in the back seat. He listens to the music with us and adds a little bit to the conversation.
But we know deep down he wants to be by himself, and drive on his own, and do what he used to do. He's so regimented in doing what he's done for the past 40 years.
Is he currently receiving any kind of treatment?
Right now, my dad's on medication that calms his mood. My dad was always mild-tempered. He was the type of person that goes with the flow, never really got upset unless somebody really, really made him angry.
But he's become a little more agitated. People with frontotemporal dementia become often become very violent later on in the disease.
My dad is strong as a bull. Before he had the disease, he was known as the bulldog of the family.
We know that if his anger starts to become more prevalent, it's going to become an issue. If he has to go into a personal care home or assisted living facility, no one may want to help take care of him because he may go into a rage.
That's a liability on the people taking care of him and the other people who are living in the facility.
How has your family worked to maintain everyone's health and well-being?
My mom's been talking to a life coach. She has talked to other friends who have family members that have gone through what we're currently going through right now.
I'm more worried about her with self-care because she's there with him all day. As soon as I come home, I try to do whatever she needs to my dad going I take him to get his medicine, make sure he eats because eventually, people with dementia forget to eat.
On Sundays, a couple of my dad's old work buddies invite him over to their houses so he can watch the Steelers games with them. That gives my mom a break, and I can take her out to get her nails done or take to get something to eat
She can just to relax for a few hours, get some laundry done, and get some household chores done without him bothering her.
What strategies do you use to deal with your father's condition?
You have to have a lot of patience.
What would happen if the shoe was on the other foot? You would want somebody to be patient with you and give you the best care.
So I just try to use the online research that I've read about his disease and my psychology background. I try to be as helpful and patient as I can be because I know there are some things that are frustrating to him, even though he won't admit it.
I just try to help alleviate the situation the best way that I can.
Keeping a sense of normalcy, maintaining a daily routine that he's used to, keeps him included and makes him feel like, "Oh, I'm not being a burden to someone."
We include him in our daily activities and try to make things fun.
We're a family that loves to laugh, so we're always making jokes. We always include him by saying, "Remember when this happened?"
He does remember a lot. Even though he forgets his short-term memories, he still has his long-term memory.
He can remember the day I was born, and the day he married my mom. He can remember helping somebody on the road or buying a meal for a homeless person.
He remembers all of that. He has a heart of gold.
How do you keep your relationship with your father alive?
We just try to keep the memories alive by reminding him of all the good things that he's done throughout his life.
He was a big sports fan, so we try to take him to games.
We try to do things that we knew that he wanted to do before the disease started to take over his brain, like traveling. We take him on road trips. We take him to concerts, to church, and to the movies.
We don't know if he understands what's going on, but we do our best to include him in everything that we do. He just enjoys the family being together.
Any time it's a major holiday and my sisters and I are all under one roof with my parents, that's just the best for him. He's overjoyed.
Do you think we will have a cure someday?
Yes, I'm hoping for a cure. Even if I have to help contribute to finding that cure, I'm willing to do that.
It's hard living day-to-day and seeing that my dad is really just a shell of a person.
He's not the same person that he used to be, but you know, that's my dad.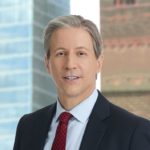 Exclusively focused on representing plaintiffs, especially in mass tort litigation, Eric Chaffin prides himself on providing unsurpassed professional legal services in pursuit of the specific goals of his clients and their families. Both his work and his cases have been featured in the national press, including on ABC's Good Morning America.