A Texas couple recently filed a new Elmiron lawsuit in the U.S. District Court for the Eastern District of Pennsylvania. They claim that the wife used Elmiron (pentosan polysulfate sodium or PPS) to treat her interstitial cystitis (IC) and bladder pain, and then suffered from serious injuries.
Plaintiff Experiences Progressive Visual Deterioration While on Elmiron
According to the complaint, the plaintiff started taking Elmiron in August 1997, as treatment for her diagnosed IC, which is a chronic and incurable painful bladder condition. The pain can range from mild to severe, and without relief can have long-lasting impacts on a patient's life.
The exact cause of IC is unknown, but doctors believe that it may stem from a defect in the protective lining of the bladder that allows toxic substances in the urine to irritate the bladder wall. Women are at higher risk for the condition than men, as are those 30 and older.
Starting in 1999, the plaintiff began to experience progressive visual problems, including blurred vision and difficulty adapting to dim lighting. In 2002, her eye exam revealed that she had maculopathy—a disease affecting the back of the retina called the macula, which is responsible for central vision. Her eye doctor also noted pigment changes (colored spots) in the macular regions of both eyes.
In 2010, the plaintiff's eye exams revealed macular degeneration and she was determined to be legally blind. In June 2013, she was diagnosed with pigmentary retina dystrophy, a form of eye disease characterized by colored dots over the retina that has been linked with eye blindness.
Since the first study connecting Elmiron with eye damage wasn't published until 2018—and there were no warnings about visual side effects on the Elmiron product label—neither the plaintiff nor her doctors had any way of knowing that her medication could be causing her visual problems.
It wasn't until the patient went through yet another exam in October 2020 that her retina specialist noted significant retinal pigment changes in the tissue as well as "diffuse outer retina atrophy," and diagnosed her with chorioretinal degeneration caused by Elmiron toxicity.
Now, because the manufacturer failed to warn about Elmiron's risks, the patient has been significantly and permanently injured.
Studies Link Elmiron with Eye Damage
For years the only warning associated with Elmiron concerning vision problems was a single reference to visual adverse events that clinical trial patients reported, including conjunctivitis, optic neuritis, amblyopia, and retinal hemorrhage. Nothing was said about pigmentary maculopathy.
Doctors from the Emery Eye Center in Atlanta, Georgia, wrote a letter to the editor of the Journal of Urology, published in 2018, alerting readers to a new condition they were seeing among their patients taking Elmiron. Specifically, they had observed unhealthy vision changes in six patients who had been using Elmiron for several years.
Several more studies followed, all showing a link between the intake of Elmiron and a unique type of eye disease called pigmentary maculopathy. Nevertheless, the manufacturer refused to make any changes to the label until the summer of 2019, when the European Medicines Agency (EMA) demanded the company alert physicians and patients to the potential for eye damage. A few months later, in October 2019, Health Canada required similar changes.
Finally, in June 2020, the FDA announced that Janssen had updated the Elmiron label in the U.S.  The new label warns patients that pigmentary maculopathy has been identified with long-term use of Elmiron and that cases have been seen with a shorter duration of use as well.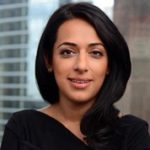 Exclusively focused on representing plaintiffs—especially in mass tort litigation—Roopal Luhana prides herself on providing unsurpassed professional legal services in pursuit of the specific goals of her clients and their families. While she handles complex cases nationwide on behalf of consumers, Ms. Luhana resides with her family in Brooklyn, New York.