As various organizations continue to debate the safety of a popular weed killer, Roundup, and its main ingredient, glyphosate, a new report from consumer group "Moms Across America" indicates that orange juice may be contaminated with the herbicide.
According to a press release, the group had an independent lab test the five top orange juice brands. Results showed that each tested positive for glyphosate.
Study Finds Glyphosate In Popular Brands of Orange Juice
For the study, researchers tested orange juice samples for glyphosate and AMPA, the residue from glyphosate, from the following brands:
Tropicana
Minute Maid
Stater Bros
Signature Farms
Kirkland
The samples were purchased from retail stores where Americans frequently buy them, including Target, Jack in the Box, and Costco.  All of the samples tested positive for the herbicide, at levels ranging from 4.33 parts per billion (ppb) to 26.05 ppb (found in the Tropicana brand).
These levels are lower than those determined by the Environmental Protection Agency (EPA) to be harmful. They have set a limit of 30 ppb on all citrus products.  But Moms Across America cite a study that reported that even 0.1 ppm (100 ppb) of glyphosate can destroy healthy gut bacteria, weakening the immune system. Researchers for the study also stated that glyphosate's toxicity "could be a significant predisposing factor that is associated with the increase in C. botulinum-mediated diseases…."
Clostridium Botulinum (Botulism) is a type of bacterium that grows on food. When ingested, it produces toxins that can cause botulism poisoning and paralysis.
Studies Show Glyphosate Can Accumulate in Human Bones
Moms Across America notes that even if the levels in orange juice are below those deemed safe by the EPA, the standard American diet is high in wheat, sugar, oatmeal, soy, and corn, and studies have revealed glyphosate in these foods as well, up to 6,000 ppb. That means that the average American could easily ingest 100 ppb, if they're regularly consuming these foods regularly or doing so on a daily basis.
In 2014, researchers found glyphosate residues in the urine and organs of dairy cows and in human urine.  Cows kept in areas with crops that were not genetically modified had significantly lower glyphosate concentrations in urine than conventional cows.
The herbicide was also found in the organs and muscle tissue of slaughtered cows. Glyphosate concentrations in urine were higher in humans who ate a conventional (rather than organic) diet. Researchers also reported that glyphosate can accumulate in human bones.
Moms Across America states that these and other studies connecting glyphosate to cancer make ingestion of this herbicide in "any amount" simply "unacceptable."
Other Studies Raise Concerns About Roundup Safety
Other recent studies have also raised concerns about glyphosate.  In January 2017, for example, researchers reported that subjects who regularly consumed low levels of Roundup, such as those found in food (0.1 ppb), showed signs of liver injury that overlapped with biomarkers for non-alcoholic fatty liver disease, a rising problem in humans today.
Meanwhile, Roundup manufacturer Monsanto is facing almost three hundred lawsuits filed by plaintiffs who claim they used Roundup long-term, and then developed non-Hodgkin's lymphoma (NHL), or a similar type of cancer.  The number of filed cases is expected to continue growing.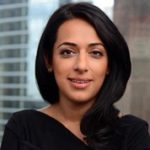 Exclusively focused on representing plaintiffs—especially in mass tort litigation—Roopal Luhana prides herself on providing unsurpassed professional legal services in pursuit of the specific goals of her clients and their families. While she handles complex cases nationwide on behalf of consumers, Ms. Luhana resides with her family in Brooklyn, New York.