In October 2016, the U.S. Judicial Panel on Multidistrict Litigation (JPML) consolidated all federally-filed Roundup lawsuits into one court in the Northern District of California. These are all cases filed by plaintiffs who claim that after using the herbicide for an extended period of time, they developed non-Hodgkin's lymphoma (NHL) or a similar type of cancer.
Under the guidance of District Judge Vince Chhabria, the parties have been working toward preparing a few cases for early trial. The court was supposed to consider the admissibility of expert witness testimony in December 2017, but recently delayed that step until March 2018.
Daubert Hearings Delayed in Roundup Litigation
To help the cases proceed as efficiently as possible, Chhabria previously bifurcated the proceedings, ordering the court to focus first on establishing a link between Roundup and its main herbicide, glyphosate, and cancer. The parties were told to address this issue first before considering any other issues of concern.
To that end, the court was supposed to proceed with Daubert hearings in December 2017. A Daubert hearing is one in which the judge determines the admissibility of expert or scientific testimony and evidence. The outcome determines which evidence or testimony will be presented to a jury in the future.
A recent scientific study, however, has caused the court to delay the Daubert hearing in this consolidated litigation.
Study Finds No Link Between Glyphosate and NHL
The study that precluded the delay was published in the Journal of the National Cancer Institute on November 9, 2017. Researchers looked at data from the Agricultural Health Study (AHS), which tracks information from licensed pesticide applicators from North Carolina and Iowa, looking for any connection between application of Roundup and non-Hodgkin's lymphoma.
They found that among over 54,000 applicators, nearly 45,000 used glyphosate, and 5,779 were diagnosed with cancer. Overall, however, glyphosate was not statistically associated with cancer. But among applicators with the highest exposure, there was an increased risk of acute myeloid leukemia (AML) compared with those who never used glyphosate, though the association was not statistically significant.
The researchers concluded that there was no apparent association between glyphosate and any solid tumors or lymphoid malignancies overall, including non-Hodgkin's lymphoma and its subtypes. They did add that there was some evidence of increased risk of AML among the highest exposed group.
Judge Delays Daubert Hearings in Face of New Study
After this study came out, Monsanto argued that the results cast doubt on the plaintiffs' claims. In a pre-trial order signed November 17, 2017, Judge Chhabria postponed the Daubert hearings until March, stating that argument from counsel will take place during the week of March 12 or the week of March 19. He also ordered each side to submit a supplemental brief regarding this new study by February 16, 2018.
The plaintiffs have already secured an expert witness that they say will point out the flaws in the study, and they are prepared to show a number of other studies that do establish a link between glyphosate and NHL. One of them is likely to be a 2014 study review on the relationship between NHL and occupational exposure to pesticide active ingredients, which showed that pesticides like glyphosate were associated with a higher incidence of NHL.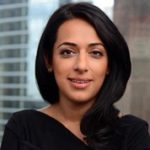 Exclusively focused on representing plaintiffs—especially in mass tort litigation—Roopal Luhana prides herself on providing unsurpassed professional legal services in pursuit of the specific goals of her clients and their families. While she handles complex cases nationwide on behalf of consumers, Ms. Luhana resides with her family in Brooklyn, New York.