The American Academy of Pediatrics (AAP) recently released updated recommendations for reducing sleep-related infant deaths.
Each year in the U.S., more than 3,500 infants die because of sleep-related problems like sudden infant death syndrome (SIDS) and accidental suffocation and strangulation in bed. These types of deaths declined in the 1990s, but have remained stagnant since then, with no further improvements.
In addition, federal health regulators have warned parents and caregivers not to use inclined sleep products as they can increase the risk of airway restriction and suffocation. In 2019, the CPSC and Fisher-Price recalled about 4.7 million Rock 'n Play Sleepers because of this danger.
The AAP wants to help parents save more lives by reminding them of the safest way for babies to sleep.
AAP Recommends Baby Lie Flat on the Back to Sleep
The new AAP recommendations suggest the following for a safe sleep environment:
Supine (flat on the back) positioning
Use of a firm, noninclined sleep surface
Room sharing without bed-sharing
Avoidance of soft bedding and overheating
Sleep-related deaths are often multifactorial, meaning that several factors contribute to the outcome. Most of the time, the infant is exposed to an unsafe sleeping environment during a critical development period.
The new recommendations apply to infants up to the age of one year.
New Recommendations in Detail
The AAP explains its recommendations as follows.
1. Supine positioning
Placing a baby flat on the back on a flat, noninclined surface "does not increase the risk of choking and aspiration in infants and is recommended for every sleep…." Even infants with gastroesophageal reflux (GER) are safer on their backs, as there is no evidence showing that elevating the head treats symptoms.
2. Use a firm, flat, noninclined surface
Sleep surfaces with inclines of more than 10 degrees have been determined to be unsafe for infant sleep. For that reason, the Consumer Product Safety Commission (CPSC) will ban all products marketed for infant sleep that have more than a 10 percent incline. These include inclined sleepers and sleep positioners—also called baby nests, docks, pods, loungers, rockers, and nappers.
Many of these products can have up to a 30 percent incline, which can be dangerous when babies' heads fall forward during sleep. This chin-to-chest position can restrict the airway, increasing the risk of suffocation. Infants can also roll over and press their faces against the cushioning, or roll out of the devices and become trapped under them.
The Safe Sleep for Babies Act of 2021 outlaws the manufacture and sale of inclined sleepers and crib bumpers.
3. Room sharing without bed-sharing
The AAP strongly advises against bringing the baby to bed to sleep with you. Instead, it recommends that babies sleep in the same room with their parents for six months, but on a separate sleep surface designed for infants with a firm, flat surface.
"There is evidence that sleeping in the parents' room but on a separate surface decreases the risk of SIDS by as much as 50%," the AAP states. This arrangement is most likely to prevent suffocation, strangulation, and entrapment that can occur when an infant is sleeping in an adult bed.
4. Avoidance of soft bedding and overheating
The AAP advises that parents and caregivers keep soft objects like pillows, pillow-like toys, quilts, comforters, mattress toppers, loose bedding like blankets and nonfitted sheets, away from the infant's sleep area to avoid the risk of suffocation, entrapment/wedging, and strangulation. Soft objects can obstruct an infant's nose and mouth. Airway obstruction from soft objects or loose bedding is the most common mechanism for accidental infant suffocation.
Instead of a sheet or blanket, place the baby in a swaddle sack or wearable blanket. In general, dress infants for the environment, with no more than one layer more than an adult would wear to be comfortable. Avoid overbundling or covering the face and head. Evaluate the infant for signs of overheating, such as sweating, flushed skin, or the infant's chest feeling hot to the touch.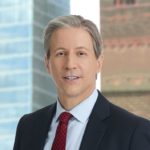 Exclusively focused on representing plaintiffs, especially in mass tort litigation, Eric Chaffin prides himself on providing unsurpassed professional legal services in pursuit of the specific goals of his clients and their families. Both his work and his cases have been featured in the national press, including on ABC's Good Morning America.