The Alzheimer's Association (AA) states that Alzheimer's disease is the sixth leading cause of death in the United States. Between 2000 and 2015, deaths from heart disease decreased by 11 percent, while deaths from Alzheimer's disease increased by 123 percent. Meanwhile, 16.1 million Americans provide unpaid care for people with Alzheimer's and other dementias.
It's one thing to talk statistics, and another to actually have the disease hit home. Chaffin Luhana Case Manager Rene Grier asked the Chaffin Luhana Foundation to donate to the AA this year, as now more than ever, she knows how much people need help with this disease.
"This is close to home for me," she said, "as I am currently helping to care for my mother who has Alzheimer's and it is a very difficult challenge daily."
The AA states that 83 percent of the help provided to older adults in the U.S. comes from family members, friends, or other unpaid caregivers. Nearly half of those care for someone with Alzheimer's or with another form of dementia. Of the total lifetime cost of caring for someone with dementia, 70 percent is born by families, either through out-of-pocket or from the value of unpaid care.
Chaffin Luhana presented a series of articles for Alzheimer's caregivers during the month of November, which is the National Alzheimer's Disease Awareness Month. Now, at Grier's request, they are donating $250 to the AA. If you'd like to donate as well, please see the information listed below:
Alzheimer's Association
225 N. Michigan Ave. Floor 17
Chicago, IL 60601
1-800-I-AM-LOST
Web: https://www.alz.org/
To Donate: https://act.alz.org/site/Donation2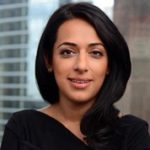 Exclusively focused on representing plaintiffs—especially in mass tort litigation—Roopal Luhana prides herself on providing unsurpassed professional legal services in pursuit of the specific goals of her clients and their families. While she handles complex cases nationwide on behalf of consumers, Ms. Luhana resides with her family in Brooklyn, New York.