The Magee-Women's Research Institute (MWRI) is the largest research institute in the country devoted exclusively to women's health research. The institute is working on making advances in many areas, including breast cancer, HIV, fertility preservation, pregnancy and fetal development, and pelvic floor health. Their vision is to "be the world leader in women's health and reproductive sciences so that our discoveries make dramatic positive impact on the health and future of mankind."
Chaffin Luhana Intake Specialist Dana Glad turned to this amazing institute when her daughter needed help. "In December of 2011," she said, "my daughter went for her gender/physical ultrasound. Instead of finding out if it was going to be a boy or a girl, we found out that the baby didn't develop a lymphatic system and the pregnancy would have to be terminated."
The whole family was devastated. Unwilling to accept the diagnosis, they researched the condition, looking for someone who might be able to help. "We reached out to Dr. Stephen Emery at UPMC Magee Hospital's Maternal-Fetal Medicine Department," Glad said. "Dr. Emery told us that as much as he wished the news was better, there was nothing he could do."
Currently, medical science has no way to stimulate the development of a lymphatic system, and without it, a human being can't survive. "On January 11, 2012 my daughter had to undergo a termination and delivery of her stillborn son," Glad said. Despite the difficulty of the experience, she remains grateful to Dr. Emery and the MWRI.
"I believe with enough research Dr. Emery will be able to prevent other families from having to go through tragic events like these. Although Dylan Patrick Dixon didn't survive he will always be one of my 8 grandkids."
At Glad's request, the Chaffin Luhana Foundation is donating $250 to the MWRI. If you'd like the support the good work they're doing, you can make a donation via the information listed below:
UPMC Magee Women's Research Institute
Contact: Jean King
3339 Ward Street
Pittsburgh, PA 15213
412-641-8968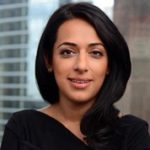 Exclusively focused on representing plaintiffs—especially in mass tort litigation—Roopal Luhana prides herself on providing unsurpassed professional legal services in pursuit of the specific goals of her clients and their families. While she handles complex cases nationwide on behalf of consumers, Ms. Luhana resides with her family in Brooklyn, New York.