When a child is critically ill and going through extensive medical treatments, life seems to revolve around the doctor's office and hospital. Families get caught up in a routine of checkups, surgeries, and other treatments, as well as home care and constant worry, and there are few opportunities to just take a break and enjoy something fun.
Icing Smiles is a nonprofit organization working to bring families with critically ill children a little bit of happiness and joy. With the help of a generous team of volunteers, the organization provides custom celebration cakes and other treats for these families, providing a temporary escape from worry while creating a positive memory.
"Icing Smiles connects families of critically ill children with local bakers who want to donate their time and talent to create a dream cake for the child's birthday," says Chaffin Luhana Mass Tort Intake Manager RaeAnn Daly.
"I learned of this charity when my son was five months old and had a few nights stay in the hospital for GERD. I saw a child in the room beside us receive a magnificent cake, so I inquired. Since then, I have been lovingly baking and donating cakes for this charity."
In addition to providing the cakes, the organization also holds various baking events around the country to brighten others' lives. On December 9, 2018, for example, they'll be holding a holiday baking event in Illinois, baking cookies for Almost Home and Lurie Children's Hospital.
"Four years and numerous cakes later," Daly says, "I still look forward to the expression on each child's face as they get to see their cake for the first time, as well as the gratitude from their parents as they look on. Each birthday for these children is a major milestone. It's a chance to put aside all of the medical treatment, the sickness and the sadness. It's a chance to create positive memories that last far beyond the day."
At Daly's request, the Chaffin Luhana Foundation is donating $250 to Icing Smiles, to help bring more smiles to children's faces. If you'd like to help too, you can make a donation via the information listed below, or you can check out the organization's website for other ways to volunteer (including baking):
Icing Smiles, Inc.
4725 Dorsey Hall Drive, Suite A-807
Elliott City, MD 21042
Web: https://www.icingsmiles.org/
To Donate: https://icingsmiles.networkforgood.com/projects/21489-donate-now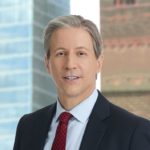 Exclusively focused on representing plaintiffs, especially in mass tort litigation, Eric Chaffin prides himself on providing unsurpassed professional legal services in pursuit of the specific goals of his clients and their families. Both his work and his cases have been featured in the national press, including on ABC's Good Morning America.