Hunger continues to be a problem in the United States. It can be particularly difficult over the holiday season to realize that many families will be struggling to get enough to eat. Feeding America notes that people struggle with hunger in every county in the nation. In Ohio alone, about 1.7 million people struggle with hunger. Of those, over 528,000 are children.
The F.I.S.H. Food Pantry was founded in 1970 to help provide meals to needy families in every community. The initials stand for, "Friend I Shall Help." In 2016, the organization provided food for more than 33,000 individuals from over 6,500 families and collected and distributed over 6,000 items of clothing. They are funded entirely by donated cash from various organizations and individuals and are staffed solely by volunteers.
"FISH is a charitable organization and food pantry that helps families in need with food on a daily basis," says Chaffin Luhana Administrative Assistant Misty Kirbaugh.
"So many families, elderly and children struggle to have food to eat and many children go to school hungry, which can be very frustrating and distracting when they are trying to learn. Worrying about your next meal is a huge stress on poor and lower income families and some are not able to buy items for holiday meals."
At Kirbaugh's request, the Chaffin Luhana Foundation is donating $250 to the FISH Food Pantry. "With this donation," Kirbaugh said, "FISH will be able to feed so many more families that they may not have been able to help. I love being a part of making a difference in many lives this holiday season."
If you'd like to contribute as well, you can make a donation via the information listed below:
FISH
213 W. 4th Street
East Liverpool, OH 43920
330-385-4457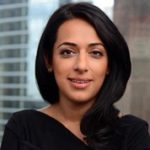 Exclusively focused on representing plaintiffs—especially in mass tort litigation—Roopal Luhana prides herself on providing unsurpassed professional legal services in pursuit of the specific goals of her clients and their families. While she handles complex cases nationwide on behalf of consumers, Ms. Luhana resides with her family in Brooklyn, New York.