It's never easy to be poor, but it may be particularly difficult for young people in school. Students feel the peer pressure to be like everyone else and often struggle in silence. The problem is larger than it may seem. According to a 2015 article in the Washington Post, the majority of U.S. public school students come from low-income families.
Back in 2016, an Edison High School Junior responded to the need by establishing a nonprofit organization called "Paw's Pantry." After going through the Hugh O'Brian Youth Leadership Program, Hope Cronin started the pantry to help supply personal items and nonperishable food to needy high school students in the district.
"Here in Jefferson County," she told the Herald Star, "about 15.8 percent of the population falls under the poverty line and 12-to-24-year-olds are the largest bracket. What I am creating is a room for them to go in and get what they need—soap, shampoo, nonperishable food items, and gently used clothes. They can come in anonymously."
Chaffin Luhana Contact Manager, Staci Aria, asked the Chaffin Luhana Foundation to donate $250 to Paw's Pantry this holiday season.
"Paw's Pantry is a non-profit organization ran by students of Edison Local School district under the direction of the school Treasurer," she said.
"They collect monetary donations as well as donations of basic hygiene products, such as deodorant, shampoo, toothpaste, toothbrushes, as well as new or gently used clothing, laundry detergent, etc. These items are kept at the schools and any student in need can quietly ask a teacher to visit the pantry and can have access to whatever the child needs."
Cronin has now graduated from the school, but the students continue with the program, expanding it to the elementary schools as well.
"When I found out about the program I was so inspired to hear about students taking care of their classmates," said Aria. "One simple act of kindness can prevent a child from being bullied, build their self-confidence, and keep them healthy."
If you'd like to contribute to Paw's Pantry as well, you can make a donation via the information listed below:
Paw's Pantry (through the Edison School District)
14890 State Route 213
Hammondsville, OH 43940
740-282-0065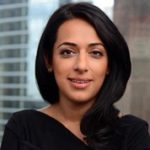 Exclusively focused on representing plaintiffs—especially in mass tort litigation—Roopal Luhana prides herself on providing unsurpassed professional legal services in pursuit of the specific goals of her clients and their families. While she handles complex cases nationwide on behalf of consumers, Ms. Luhana resides with her family in Brooklyn, New York.