The Centers for Disease Control and Prevention (CDC) recently reported that suicide rates in the United States are increasing. Since 1999, they've gone up more than 30 percent in half of the states across the country. In Pennsylvania, rates increased by about 25 percent over that time.
Suicide is a tragedy that affects not only the victims, but their family members, friends, and communities. Grief over a suicide can be more painful and complex than grief over death by other causes, as family members may feel guilty and/or angry, and struggle to make sense of what happened. Loved ones struggled with the question of "why," or may feel that they failed somehow.
The American Foundation for Suicide Prevention (AFSP) provides resources for suicide loss survivors, including support groups, access to a list of knowledgeable and trained clinicians to provide grief therapy, "Survivor Day" documentaries, and toolkits for schools.
"Recently on September 11th, 2018, I lost my mother to suicide," says Chaffin Luhana Intake Specialist Cristin Rowe.
"My family has gone through a tremendous amount of turmoil. The mission for AFSP is To Save Lives and Bring Hope to Those Affected by Suicide. The education they provide is very much needed in today's society with children and adults. This charity is something that is near to us."
At Rowe's request, the Chaffin Luhana Foundation is donating $250 to the AFSP. If you'd also like to help, you can make a donation via the information listed below.
American Foundation for Suicide Prevention
Contact: Nathan Wiser
120 Wall Street, 29th Floor
New York, NY 10005
212-363-3500 ext. 2048
Web: https://afsp.org/
To Donate: https://afsp.donordrive.com/index.cfm?fuseaction=donate.general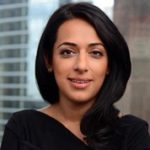 Exclusively focused on representing plaintiffs—especially in mass tort litigation—Roopal Luhana prides herself on providing unsurpassed professional legal services in pursuit of the specific goals of her clients and their families. While she handles complex cases nationwide on behalf of consumers, Ms. Luhana resides with her family in Brooklyn, New York.