In March 2019, the FDA warned health care providers about potential risks associated with surgical staplers, which are used to close wounds or surgical sites under high tension.  Between January 1, 2011, and March 31, 2018, the FDA received over 41,000 reports of problems with the devices, including 366 deaths.
Since that time, plaintiffs who were significantly injured in medical procedures where a surgical stapler malfunctioned causing injuries have been filing lawsuits to recover damages.  A California woman recently joined the litigation, filing her case in the U.S. District Court for the Northern District of California.
Plaintiff Undergoes Bowel Surgery Where a Surgical Stapler Was Used
According to her complaint, the plaintiff underwent a sigmoidectomy on November 28, 2017.  During this procedure, surgeons remove all or part of the sigmoid colon, which is the S-shaped part of the large intestine just before the rectum.  Surgeons then rejoin the two healthy ends of the intestinal tract.
In the plaintiff's surgery, damaged colon tissue was removed, and doctors reconnected healthy tissue using a Covidien endo-GIA purple load surgical stapler.  The plaintiff claims that the defendants—Covidien and Medtronic, Inc.—knew at that time that these staplers frequently malfunction, yet failed to provide adequate warnings to healthcare providers about the dangers.
In May 2018—several months after her surgery—Medtronic recalled its endoGIA staplers, then issued a second recall on June 3, 2019, including endoGIA staplers that were distributed between April 2014 and April 2019. The plaintiff believes that the stapler used in her surgery was included in one or both of these recalls.
Before using the stapler on the plaintiff, her surgeon determined the bowel tissue was healthy enough to reconnect with a stapler.  The doctor tested the connection and noted a small leak, but after reinforcing the area, they found no more leaks.
Plaintiff Undergoes Multiple Surgeries to Address Complications
After the procedure, the plaintiff had a difficult recovery.  She wasn't able to eat, suffered from nausea and vomiting, and was slow to regain bowel function.  She was not able to be discharged from the hospital as expected and continued to get worse.  On December 6, 2017, she was taken back to the operating room, as doctors suspected she had a bowel leak.
That day, she had to undergo a second surgery, in which her surgeon detected a colon leak allegedly caused by a defective surgical stapler.  The surgeon performed an additional colon resection and appendix resection.  After this surgery, the plaintiff had to use a colostomy bag and ultimately required a third surgery to remove it.
The plaintiff then required a fourth surgery to correct an incisional hernia.  All of these additional procedures allegedly caused the plaintiff to incur additional medical expenses while prolonging her hospital stays and increasing her physical and emotional suffering.
In her complaint, the plaintiff refers to an FDA executive summary prepared for a May 30, 2019 meeting of the General and Plastic Surgery Devices Panel, which included a similar case involving a patient who suffered a leak and an incisional hernia following the use of a surgical stapler, much like the plaintiff's case.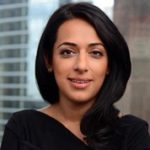 Exclusively focused on representing plaintiffs—especially in mass tort litigation—Roopal Luhana prides herself on providing unsurpassed professional legal services in pursuit of the specific goals of her clients and their families. While she handles complex cases nationwide on behalf of consumers, Ms. Luhana resides with her family in Brooklyn, New York.