Late last year, the Trump administration announced that it was working with the Food and Drug Administration (FDA) on a possible ban of all flavored e-cigarettes, in an effort to curb the rising use of these products among America's youth.
Now, the FDA has announced that it's finalized the enforcement policy on flavored cartridge-based e-cigarettes that appeal to children.  Companies that don't stop manufacturing, distributing, and selling the now-unauthorized flavored products within 30 days risk FDA enforcement actions.
Addressing the Epidemic of E-Cigarette Use Among Youth
Several studies have indicated that flavored e-cigarettes are enticing to young people.  In October 2019, researchers from the University of North Carolina Health Care analyzed 51 studies and reported that non-menthol flavors of e-cigarettes attract underage users.  The use of these products was also linked to higher e-cigarette use among youth.
"Consistent evidence shows that flavors attract both youth and adults to use e-cigarettes," the researchers wrote. "Given the clear findings that such flavors increase product appeal, willingness to try and initiation among youth, banning non-menthol flavors in e-cigarettes may reduce youth e-cigarette use."
An earlier 2017 study came up with similar findings—compared to plain e-cigarette use, the use of flavored e-cigarettes was "strongly associated" with smoking susceptibility among youth.  The Surgeon General has also warned about an "epidemic" of youth e-cigarette use, noting that the recent surge that has been fueled by the new types of e-cigarettes, "is a cause for great concern."
Meanwhile, the 2019 National Youth Tobacco Survey (NYTS) results show that more than 5 million U.S. middle and high school students are currently using e-cigarettes, with the majority reporting cartridge-based products as their usual brand.
Addressing the Epidemic of E-Cigarette Use Among Youth
The FDA stated in its press release that the U.S. "has never seen an epidemic of substance use arise as quickly as our current epidemic of youth use of e-cigarettes."  According to U.S. Department of Health and Human Services (HHS) Secretary Alex Azar, the Agency seeks to strike the right balance between allowing e-cigarettes "as a potential off-ramp for adults using combustible tobacco" while ensuring the products don't "provide an on-ramp to nicotine addiction for our youth."
Starting 30 days from the publication of the new guidelines, the FDA intends to take action against illegally marketed products by focusing on the following groups:
Any flavored, cartridge-based e-cigarette product (other than tobacco- or menthol-flavored products)
All other e-cigarette products for which the manufacturer has failed to take adequate measures to prevent access by minors
All e-cigarette products targeted to minors or likely to promote use by minors
"Cartridge-based" refers to those products that have a cartridge or pod that holds the e-cigarette nicotine solution.  These are found in the popular JUUL e-cigarette and other products commonly used by young people.
The FDA is not enforcing action against other types of flavored e-cigarette products in the same way, in an attempt to balance the concerns about youth vaping with those of adult cigarette users who may want to use flavored e-cigarettes to quit smoking.
The FDA emphasized that this is not a "ban" on flavored e-cigarettes, and noted that it has accepted and started to review several premarket applications for flavored products.  Manufacturers who wish to market any flavored e-cigarette must submit an application to the FDA.  If the company can demonstrate that the product meets applicable standards, including whether it encourages youth initiation or use, the FDA may authorize the product for sale.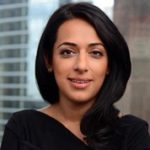 Exclusively focused on representing plaintiffs—especially in mass tort litigation—Roopal Luhana prides herself on providing unsurpassed professional legal services in pursuit of the specific goals of her clients and their families. While she handles complex cases nationwide on behalf of consumers, Ms. Luhana resides with her family in Brooklyn, New York.