Closed because of COVID-19 concerns, restaurants, salons, entertainment venues, and other businesses are losing money by the day. Many business owners worry they may lose their businesses altogether.
Might insurance policies offer relief? Business owners typically buy business protection insurance specifically to help when business is halted because of a physical loss such as a fire, natural disaster, or leaking water pipes. Business owners believe these policies should help with COVID-19 related losses as well, but many insurers have pushed back, claiming that virus-related losses are not covered.
In response, business owners are filing a growing number of lawsuits against those insurance companies, demanding they step up and honor their policies.
Insurance Companies Don't Want to Pay COVID-19-Related Damages
In March 2020, famed chef and restaurateur Thomas Kelly filed a lawsuit against insurer Hartford Fire Insurance Co. seeking a court judgment to confirm that his policy covers COVID-19-related business losses. He hopes the lawsuit will establish a legal precedent so that other businesses facing mandated shut-downs will also be covered by their business interruption policies.
The owners of a New Orleans seafood restaurant filed a similar lawsuit in Louisiana asking the court to make a declaratory judgment that the insurance policy with Lloyd's of London will cover COVID-19-related losses caused by government-ordered closures.
Many insurance companies have pushed back against requests from business owners, intending not to cover these types of losses. Indeed, after coming up against past viral outbreaks like SARS and the swine flu, some insurance companies have already put verbiage in their policies specifically excluding viral-related losses.
Some government officials are trying to help. A few mayors, for example, have issued orders specifically citing property damage from the virus as a basis for mandating business shutdowns. Property damage would normally qualify for coverage under business interruption policies, but it's unclear whether this action will be enough to result in the help businesses desperately need.
Lawmakers Join Together to Try to Help Businesses
Though no state has yet enacted legislation that would require insurers to cover claims related to COVID-19, several states are considering such legislation. Near the end of March 2020, New Jersey lawmakers proposed a bill that would require property insurers to pay for businesses interruption losses due to the disease, even if a policy expressly excludes losses due to viruses or bacteria. The law would apply to policies issued to businesses with less than 100 employees in New Jersey.
Other states followed New Jersey's lead. Ohio proposed a bill requiring every policy insuring an Ohio business against loss or property damage to cover losses sustained during the state of emergency. It was also limited to companies with 100 or fewer employees.
Massachusetts proposed a law that would go even further, mandating coverage even in the face of unambiguous policy language that excludes coverage. It would apply to businesses with 150 or fewer full-time employees.
Similar laws have been proposed in New York, Louisiana, Pennsylvania, and South Carolina. It remains to be seen if any of these laws will be passed.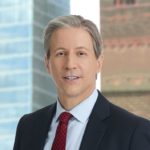 Exclusively focused on representing plaintiffs, especially in mass tort litigation, Eric Chaffin prides himself on providing unsurpassed professional legal services in pursuit of the specific goals of his clients and their families. Both his work and his cases have been featured in the national press, including on ABC's Good Morning America.