Estimates are that worldwide, 44 million people are living with Alzheimer's disease or a similar form of dementia. In the U.S., about 5.5 million people have the disease, and of these, 200,000 have the early-onset form of it. Unfortunately, data from the National Institute on Aging suggests that the prevalence of the disease will increase, so that by the middle of the century, the number of people with the disease in the U.S. could reach as high as 16 million.
Chaffin Luhana team member Ariana Beck, Medical Records/Intake Specialist, recently came face-to-face with dementia when her father was diagnosed. "I'd love to help bring awareness to this disease especially since my father was recently diagnosed after months of testing and several visits to his doctor," she says. "Although he is only 60 years old and in the beginning stages, it's very difficult to witness him no longer being the man he used to be as his memory is slowly declining."
Though Alzheimer's is more common in those over the age of 65, it can affect people as young as 30 or 40. Whenever it hits someone under the age of 65, it's known as early-onset Alzheimer's disease. The symptoms are the same and include things like forgetting important dates, asking for the same information multiple times, losing track of the date or time of year, losing track of location and how one arrived there, and having difficulty solving regular daily problems.
The Alzheimer's Association (AA) was formed in 1980 to help advance research to end this disease, while enhancing care for those living with it. They work on a global, national, and local level to provide care and support for affected individuals and their families. They also have local chapters around the nation that provide services within each community. Beck requested that the Chaffin Luhana Foundation donate $250 to the Greater Pennsylvania Chapter.
"Very soon," she said, "I plan to support this organization by volunteering my time and participating in their annual walks to join the fight in hopes of finding a cure for someone in the future."
Held annually in more than 600 communities nationwide, the Walk to End Alzheimer's is the world's largest event to raise awareness and funds for Alzheimer's care, support, and research. In Pittsburgh, the walk takes place on November 4, 2017.
The Chaffin Luhana Foundation is happy to contribute to this worthy organization. If you'd like to contribute as well, you can make a donation via the information listed below:
Alzheimer's Association: Greater Pennsylvania Chapter
Contact: Jennifer McCallay
1100 Liberty Ave, Suite E 201
Pittsburgh, PA 15222
412-261-5040
To Donate: https://www.alz.org/pa/in_my_community_donate.asp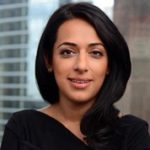 Exclusively focused on representing plaintiffs—especially in mass tort litigation—Roopal Luhana prides herself on providing unsurpassed professional legal services in pursuit of the specific goals of her clients and their families. While she handles complex cases nationwide on behalf of consumers, Ms. Luhana resides with her family in Brooklyn, New York.