They say that sharing interests helps keep couples together. Turns out that it can also bring people together. Back in 2012, Nick Ferraro was running a pet boarding and training facility called "South Hills Pet Resort," when a lady named Ashley Rittle came in for help with her dog. The pooch required some obedience training, so Nick agreed to help. The next year, the two were married, but their journey didn't end there.
In August 2013, a local animal rescue overwhelmed with dogs pulled from high-kill shelters asked South Hills for help. Nick and Ashley agreed to take 13 dogs, but ended up with 62 instead. They cared for all of them, rehabilitating and training them so they'd be ready for forever homes. The experience compelled them to permanently dedicate part of their facility as an animal rescue.
Today, South Hills Pet Rescue houses an average of 50 rescue dogs at all times. The place is run by volunteers, and is always in need of help. They keep their doors open to all animals, even if the adoptions don't work out.
Chaffin Luhana team member and Medical Records Manager, Raelyn LeMunyon, has asked The Chaffin Luhana Foundation to support the rescue this year with a donation of $250. "The shelter works to place each animal in the best home for them," she says, "but they have a clause in the adoption contract that if the animal does not work out, the new owner is required to return the dog to their shelter to ensure their protection."
In 2016, South Hills had over 500 animals either transferred in or relinquished to the shelter, and ended up adopting out 533 of them. The Chaffin Luhana Foundation is happy to support their good work. If you'd like to contribute as well, you can make a donation via the information listed below:
South Hills Pet Rescue
P.O. Box 224
Monaca, PA  15061
412-835-8802
Web: https://www.southhillspetrescue.org/
To Donate: https://www.southhillspetrescue.org/donate/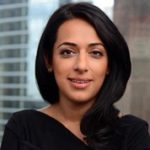 Exclusively focused on representing plaintiffs—especially in mass tort litigation—Roopal Luhana prides herself on providing unsurpassed professional legal services in pursuit of the specific goals of her clients and their families. While she handles complex cases nationwide on behalf of consumers, Ms. Luhana resides with her family in Brooklyn, New York.