The Centers for Disease Control and Prevention (CDC) states that each year, about 20,000 women in the U.S. are diagnosed with ovarian cancer. It is the tenth most common cancer among women, and the fifth leading cause of cancer death. Though the cancer is rare—affecting only 1.3 percent of women—it is difficult, with a five-year survival rate of about 46 percent.
Chaffin Luhana team member and Associate Justin Joseph was one of many in the country personally touched by ovarian cancer. "My wife's mom was diagnosed with ovarian cancer," he says, "and passed in May 2013 after a three-year fight with the disease." The cancer begins in the ovaries, and without early treatment, can spread to other organs in the pelvis and abdomen. Scientists aren't sure what causes it, but believe that it runs in families. Unfortunately, it rarely causes symptoms in its early, most treatable stages, so women remain unaware of its presence.
The National Ovarian Cancer Coalition (NOCC) started as a grassroots organization funded by ovarian cancer advocates and survivors in Boca Raton, Florida, in the early 1990s. The organization was incorporated in 1995, and has since been working to raise awareness of the disease, and to provide education and support to women and their families. In the year 2000, they proclaimed September as National Ovarian Cancer Awareness Month, and moved their headquarters from Florida to Dallas, Texas, in 2008.
Throughout the year, the Pittsburgh chapter of the NOCC hosts a variety of events to help raise funds for the growth of the organization. One of their more popular ones is the annual "Run/Walk to Break the Silence on Ovarian Cancer," which this year was held on September 17, 2017.
"My wife and I supported the NOCC by putting together a team of family and friends at their annual walk in Pittsburgh in memory of her mom," Joseph says. At his request, the Chaffin Luhana Foundation is donating $250 to the organization. "These donations are truly an awesome act of kindness that the Chaffin Luhana Foundation does for firm employees and the community," Joseph added.
If you'd like to contribute as well, you can make a donation via the information listed below:
National Ovarian Cancer Coalition
Contact: Rachel McCune
6507 Wilkins Ave, Suite 100
Pittsburgh, PA 15217
412-660-4454
Web: http://www.ovarian.org/connect/find-a-local-chapter/pittsburgh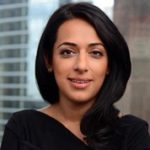 Exclusively focused on representing plaintiffs—especially in mass tort litigation—Roopal Luhana prides herself on providing unsurpassed professional legal services in pursuit of the specific goals of her clients and their families. While she handles complex cases nationwide on behalf of consumers, Ms. Luhana resides with her family in Brooklyn, New York.