November is National Alzheimer's Disease Awareness Month and in an effort to fight this debilitating disease that affects an estimated 5.7 million Americans, Chaffin Luhana LLP team members, RaeAnn Daly, and Rene Grier interviewed Dr. Richard Morgan to share his experiences being a support counselor and full-time caregiver.
Dr. Morgan is a retired pastor with a Ph.D. in Religion and the author of several best-selling books including No Act of Love Is Ever Wasted: The Spirituality of Caring for Persons with Dementia. Dr. Morgan is also a co-founder of the ClergyAgainstAlzheimer's network, a licensed counselor (retired), and volunteers in memory care support groups.
What have been your firsthand experiences with dementia?
My mother died in 1967 with Parkinson's dementia. Of course, in those days, they didn't even diagnose it. They would just call it senility.
I've been working with this ever since. I'm a licensed counselor, now retired. I have worked in many nursing homes with Alzheimer's. Even here at the Redstone Retirement Community, I do volunteer work with the support group and with people in our memory care.
I was a distant caregiver for my mother. She lived in Philadelphia, I was in North Carolina. But now, my own situation is a little different with my wife, who is in the early stages of dementia.
What would be your advice for someone who is dealing with a loved one's dementia?
Well, first of all, you need to get a diagnosis. It's important to get the diagnosis because you need to be aware of what's going on. After you get the diagnosis, you need to work with your primary care physician, with medication, or with a neurologist.
Then after that, it's a daily struggle, to be honest with you. You know, 24/7, it's a 36-hour day.
Let me recommend a great book. It's by Pauline Boss, called Loving Someone Who Has Dementia. That's an incredible book. She went through this herself and writes about her background.
I recommend that to all my caregivers because she talks about how you really do have to form a new relationship with the person who has this disease. They're not the same and never will be.
Another thing I've learned is that there are times just to get away. I don't drive anymore, but there are plenty of places here in this facility where I can go to the library or up to the third floor, and there's a parlor up there, just to get some refuge.
You're always aware of it. And sometimes it's good for your own mental and physical health to get away from it for a few minutes.
How have you been changed by your wife's dementia?
It's time-consuming, and it's a change in my own lifestyle because I'm responsible. I do all the grocery shopping, I do all the meals that we have here.
I'm a writer. I've written 19 books. But no longer, because now, I'm a primary caregiver. I just don't have the time.
So, it's changed my lifestyle, which is okay. That's the way it is. Pauline Boss calls it an ambiguous loss, a loss that is unclear, has no resolution, no closure. It really is a major change in the relationship.
And you have to work on that. You have to work on yourself. Because one of the greatest problems you will face is frustration, and frustration can lead to aggression.
That's why it's easy to get angry. I'm human, you know, that happens.
I just have to work on that all the time and realize this is not the same person I knew in the past. She now is different, and I have to realize that.
It is a mutual caregiving.
It's not just the caregiver who gives care to the care receiver. Often they also can be a blessing to us.
They make us realize things that I never realized before. For instance, I realize now the importance of the immediacy of the present.
For people with dementia, short-term memory is gone, and often even long-term memory is gone. There's no future to look forward to, so what they helped me realize is how to stay in the moment with them.
Never trying to argue, or persuade them to be somewhere else.
Go right where they are, even with all their fantasies.
Why did you decide to start a support group for dementia caregivers?
We began our Alzheimer's support group in 2008. We're supported by the Alzheimer's Association of Greater Pittsburgh.
We give caretakers an opportunity to vent their feelings and to learn from others in the group who are going through or have gone through the same problems.
We're trying to spread as much awareness about dementia as we possibly can. But I think a lot of people just don't identify dementia as being a real issue; it's just a case of someone losing their mind.
I would estimate that 80% of our people in independent living have never been to memory care. And yet, in many of them, I have already detected signs of dementia.
Some forget to go to the dining room. Some forget where their apartment is. Some eat a meal and an hour later go back and eat another meal because they forgot they'd already eaten.
I see evidence of dementia right here in independent living, and it's growing. Yet almost nobody has ever been to visit these people up in memory care.
What kinds of obstacles do caregivers face?
Primary caregiving is really a consuming task. I have people call me quite often and say, "I would come to your support group, but I have nobody to take care of my loved one." I honestly can say we never have a meeting where there's not somebody new coming in with this issue.
So I started asking the churches, would you provide someone to just go sit with this person, so their daughter or their husband or whoever, could come to our group? I went to 10, 12 churches in this area, and only found one church that offered respite care for the caregivers.
I have a real issue with how the churches have not responded to this need. We're missing a whole population of people that would be in our support group but can't come because they have nobody to care for their loved one.
What can caregivers do to avoid burnout?
Caregivers have to watch that because you can burn out easily.
Unless you take care of yourself, you can't take care of anybody else.
I think it helps to have some kind of private time, to the extent possible. Support groups are also very important. Having a good friend you can talk to on the telephone is helpful.
It's very difficult when you're with someone who has dementia all the time, having to watch their behavior and see what they're going to do next. We have people in the care group who tell me that their problem has been with sundowning.
Often the person leaves the house, and they're later found in the neighborhood by the police. There are all kinds of problems that emerge that a lot of people are not aware of.
Education is a big aspect of it. That's why people need to be educated about what this does disease does, not only to the person with dementia, but also what it does to the caregiver. I don't think people are aware of that.
Have you experienced any moments of beauty arising from dementia?
I developed a close friendship with Dr. Danny Potts, a neurologist in the University of Alabama in Tuscaloosa. His father had Alzheimer's, and when he put him in a memory care unit, this man began painting these remarkable pictures. He had never painted before in his life.
Danny sent me a portfolio of his paintings. I took them up to memory care, and I was amazed how people with Alzheimer's, who spoke in garbled language or didn't speak at all, related to those paintings by somebody with Alzheimer's.
Danny and I wrote a book about this called Treasure for Alzheimer's.
For people who are in advanced stages, there's nothing there but the present moment. And so, you cherish that.
There are always moments of joy. We were having a chapel service one Christmas season here, and the minister was droning on and on and on, just droning on and on, and there was a lady sitting in front who had Alzheimer's.
Suddenly, she blurted out, "Hark The Herald Angels Sing, and don't you forget it." She was more in touch with the season than he was. That was incredible.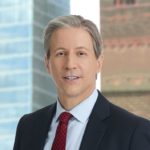 Exclusively focused on representing plaintiffs, especially in mass tort litigation, Eric Chaffin prides himself on providing unsurpassed professional legal services in pursuit of the specific goals of his clients and their families. Both his work and his cases have been featured in the national press, including on ABC's Good Morning America.