The National Cancer Institute states that in 2016, an estimated 1,685,210 new cases of cancer were diagnosed in the United States, with an estimated 595,690 people dying from the disease. Fortunately, the number of people surviving a cancer diagnosis is on the rise, increasing from 14.5 million in 2014 to an expected 19 million by 2024.
No matter how you look at it, though, receiving a cancer diagnosis is a scary thing. Going through cancer treatments can be even more frightening. The Satchels of Caring Foundation seeks to help make the experience a little bit better for Pittsburgh residents. To that end, they create and distribute hand-sewn satchels filled with therapeutic items to support cancer patients.
"These satchels are distributed to local doctors' offices and outpatient centers in the Pittsburgh area," says Chaffin Luhana team member and First Contact Manager, Staci Aria.
The foundation's history goes back to 2003, when the original members contacted the American Cancer Society to find out how they could better support patients going through difficult treatments. Over the years, the group developed their products, and in 2016, reached a milestone of over 13,000 satchels distributed free of charge to patients in the western Pennsylvania area.
One satchel typically includes a scarf with tying instructions, support literature, hand/body creams and lip balm, inspirational literature, a bookmark, tissue packets, blank notecards, a journal, and more.
"We know all too well how scary, overwhelming, and heartbreaking it can be to watch a loved one battle cancer," says Aria. "Satchels of Caring provides small tokens of love and support that means so much to those fighting this terrible disease."
The foundation relies solely on volunteers and donations to do their good work. At Aria's request, the Chaffin Luhana Foundation is donating $250 to them this year. If you'd like to contribute as well, you can make a donation via the information listed below:
Satchels of Caring Foundation
Contact: Kathy Graham
307 Fourth Avenue, Suite 509
Pittsburgh, PA 15222
412-841-1289
Web: http://www.satchelsofcaring.org/
To Donate: http://www.satchelsofcaring.org/support-our-program.html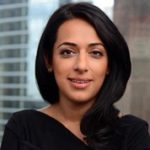 Exclusively focused on representing plaintiffs—especially in mass tort litigation—Roopal Luhana prides herself on providing unsurpassed professional legal services in pursuit of the specific goals of her clients and their families. While she handles complex cases nationwide on behalf of consumers, Ms. Luhana resides with her family in Brooklyn, New York.