Losing a baby is something most parents don't even want to think about. Unfortunately, it happens more often than we'd like to believe. The Centers for Disease Control and Prevention (CDC) states that in 2014, there were about 23,215 infant deaths in the U.S., caused by a variety of conditions, including congenital malformations, low birthweight, short gestation, and other complications of pregnancy and birth.
Chaffin Luhana team member and Mass Tort Intake Manager RaeAnn Daly is no stranger to the pain of losing a child and was struck by this tragedy multiple times. One of the things that made an extremely difficult time even harder was that she had little time to be with her children to grieve after their passing.
"The babies had to be taken out of the room to a cooling area and brought back in small time blocks," she explains. "The constant interruption added to the difficult time."
There is an organization that's trying to change that. Called "Ashlie's Embrace," it was founded by Erin and Anthony Maroon, who lost their first child, Ashlie, when she was stillborn at full term in October 2015. They too had little time to grieve their child's passing, and wanted to make sure other parents would not be deprived of those important moments.
To that end, they founded Ashlie's Embrace to help provide "CuddleCots" to U.S. hospitals. These are small baby basinets used extensively in the United Kingdom to help parents who must suffer the loss of a baby. The CuddleCot system cools the baby, allowing parents to spend critical time with their child.
Daly explains that after her friend, Leslie, lost her daughter, Willow, she received a CuddleCot in her hospital room, allowing her time to say goodbye. "She paired with Ashlie's Embrace to raise awareness about CuddleCots," Daly says, "and has raised enough money for several cots in six short months. Ashlie's Embrace also puts on a fundraising gala each year, and Leslie was the guest speaker and given an award for her efforts."
At Daly's request, the Chaffin Luhana Foundation is donating $250 to Ashlie's Embrace, to help support more parents during their time of grief. "Leslie, along with Ashlie's Embrace, have helped many, many families at what could certainly be the lowest moment of their lives," Daly said.
If you'd also like to help Ashlie's Embrace in their mission to supply more CuddleCots to hospitals and medical centers, you can make a donation via the information listed below:
Ashlie's Embrace
1967 E. Maple St. Suite 186
North Canton, OH 44720
303-418-4851
Contact: Erin Maroon
Web: http://www.ashliesembrace.org/
To Donate: http://www.ashliesembrace.org/donate/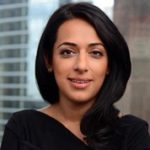 Exclusively focused on representing plaintiffs—especially in mass tort litigation—Roopal Luhana prides herself on providing unsurpassed professional legal services in pursuit of the specific goals of her clients and their families. While she handles complex cases nationwide on behalf of consumers, Ms. Luhana resides with her family in Brooklyn, New York.