You've heard of self-driving cars, trucks, and even planes, but school buses? It's true that some technology companies are working on autonomous buses and shuttles, but so far the National Highway Traffic Safety Administration (NHTSA) had not given anyone clearance to test these vehicles while transporting children.
Yet, that is just what one company was doing in Florida.
NHTSA Calls Testing with Student Riders "Irresponsible"
In an October 2018 news release, the NHTSA stated that it had issued a letter to Transdev North America, directing them to immediately stop using their EZ10 Generation II driverless shuttle to transport school children in Southwest Florida. The administration had previously granted the company permission to import the shuttle for testing and demonstration purposes, but not for use as an actual school bus.
The company did not tell the NHTSA they were using the shuttle for this purpose, and did not receive approval to do so. The NHTSA stated that using such a vehicle to transport children
"is irresponsible, inappropriate, and in direct violation of the terms of Trandev's approved test project."
They added that school buses are subject to rigorous federal standards and that if Transdev failed to take appropriate action, they could be subject to civil penalties, the voiding of the importation authorization, and/or the exportation of the vehicle.
Transdev stated they believed the testing met the appropriate requirements, but agreed to stop after receiving the NHTSA's letter. They added that the small pilot test was operating safely in a highly controlled environment.
The 12-person shuttle travels at a top speed of 8 miles per hour, with the potential to reach speeds of 30 miles per hour. It is a fully electric vehicle and according to Transdev, reacts 30 times faster than a human driver. A safety attendant was on the vehicle at all times while the students were riding, but the goal of the test was to establish a route and operation that would be fully autonomous.
Seattle Company Also Working on Driverless School Bus
There are other companies venturing into the autonomous self-driving school bus arena. Though no others are testing on actual live children, a company in Seattle has envisioned a driverless school bus to carry kindergarten through eighth-grade students back and forth to school.
Teague, a design consultancy specializing in travel and technology, calls their bus "Hannah." It holds up to six children at a time and is small enough to deliver children directly in front of their homes, eliminating the need for bus stops. School buses often stop at designated areas, requiring children to cross the street to get to their homes, but Hannah would eliminate the need to cross streets.
Hannah can also move forward and back and left and right seamlessly, with sliding doors on both sides, so there is no real front or backend. This allows the vehicle to go where it needs to go to drop children off at their designated locations.
Teague also envisions the buses doubling as Starbucks delivery vehicles and Amazon lockers during the midday hours when they are not transporting students, and imagines they would stay in the neighborhoods they serve. Facial-recognition technology and cameras enable remote monitoring.
The firm has no plans to build Hannah in the near future, but their concept and others like it are likely to continue to be developed in the years to come.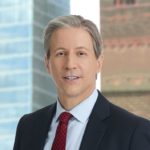 Exclusively focused on representing plaintiffs, especially in mass tort litigation, Eric Chaffin prides himself on providing unsurpassed professional legal services in pursuit of the specific goals of his clients and their families. Both his work and his cases have been featured in the national press, including on ABC's Good Morning America.