Two plaintiffs recently filed new toxic chemical lawsuits against manufacturers of products containing per- and polyfluoroalkyl substances (PFAS). These manufacturers include 3M Company, Chemguard Inc., and more.
The plaintiffs claim that the PFAS products caused water contamination and birth injuries, and seek to hold the companies liable for damages.
Water District Blames Firefighting Foams for Contamination of Wells
The first plaintiff is the Pico Water District. It owns and operates a water system providing drinking water to residents and businesses in the city of Pico Rivera, California. The plaintiff seeks to recover the substantial costs necessary to protect the public and restore certain of its water supply wells that were contaminated with per- and polyfluoroalkyl substances (PFAS).
PFAS are toxic chemicals present in firefighting foams that once released into the environment, do not degrade and persist to pollute waterways. The plaintiff states that these compounds have impacted stormwater, surface water, and groundwater, and "now contaminate the water pumped from the plaintiff's water supply wells."
Firefighting foams—which contain PFAS—were used at fire training facilities, fire departments, and airports within and around the plaintiff's water district, such that those compounds traveled by water pathways toward the plaintiff's contaminated wells.
The defendants were aware that their products would be used, released, or disposed of near the vicinity of these wells, the plaintiff continues, yet failed to take precautions to protect the public. As a result, PFAS and/or their chemical precursors have been detected in the plaintiff's contaminated wells at levels exceeding California's regulatory advisories.
Plaintiff Blames Congenital Defects on Exposure to PFAS
The second plaintiff is a resident of New Jersey who suffers from several profound birth injuries including a congenital heart defect and brachial plexus injury with associated paralysis. She blames these injuries on her exposure to PFAS in the defendants' products.
The plaintiff resided in Pedrickton, New Jersey from about 1962 through 1981, and her parents also lived there for a year before her birth. She states that she was exposed to PFAS from the defendants' products through airborne dispersion, groundwater, surface water, domestic water supplies, soil contamination, and vapor intrusion in and around her neighborhood.
She believes that her exposure to these toxins during her fetal development contributed to her birth injuries. Solvay, a manufacturer of a PFAS compound called polyvinylidene fluoride (PVDF), released vast amounts of PFNA and other toxins into the air, soil, and water contaminating the site and off-site properties including the plaintiff's home, according to her complaint. The company also used sodium perfluorooctanoate (NaPFO) as a surfactant, which degrades into PFOA, another PFAS chemical.
The plaintiff points to other examples as well, including DuPont's facility located in Pennsville and Carneys Point Townships in New Jersey, which produced, used, and discharged into the environment PFAS chemicals that contaminated off-site properties including the plaintiff's home.
The defendants knew of the toxicity of these chemicals but failed to take the proper precautions. In 2018, the New Jersey Department of Environmental Protection (NJDEP) sampled 992 private wells and detected PFAS in many of them, including those sampled as part of an investigation of Solvay's facility.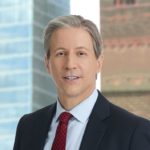 Exclusively focused on representing plaintiffs, especially in mass tort litigation, Eric Chaffin prides himself on providing unsurpassed professional legal services in pursuit of the specific goals of his clients and their families. Both his work and his cases have been featured in the national press, including on ABC's Good Morning America.