In mid-March 2020, a New Orleans restaurant called "Oceana Grill" filed a new lawsuit against Lloyd's of London, a British insurance market that insures businesses. The plaintiff seeks a judgment that would force the company to pay for the losses the restaurant is suffering because of the coronavirus pandemic.
This is believed to be the first lawsuit of its kind, where a business seeks to compel an insurance company to cover losses sustained as a result of COVID-19 as part of an all-risk insurance policy. The results remain to be seen, but other businesses seeking help with virus-related losses will likely follow suit. Some state governments are also considering actions that may help businesses in their efforts.
Businesses Struggle Under Government Shut-Down Orders
According to the complaint, the restaurant is covered and has maintained coverage with an all-risk policy, which is a type of insurance policy that covers all risks unless clearly and specifically excluded. The policy provides property, business personal property, business income and extra expense, and ordinance or law coverage, and also includes coverage for losses due to civil authority shutdowns.
The plaintiff claims that the policy does not provide any exclusion due to losses from a virus or global pandemic, so therefore, the restaurant is entitled to coverage for coronavirus-related losses. The plaintiff has asked the Court to affirm this position and seeks a declaration that the policy extends coverage from direct physical loss and/or from a civil authority shut down due to a global pandemic virus.
On March 13, 2020, the Governor of Louisiana issued an order banning gatherings of 250 or more people in a single space. The Oceana Grill can accommodate up to 500 guests at a time. On March 15, 2020, the mayor of New Orleans also directed all full-service restaurants to close by 9:00 p.m. daily and limit the number of guests to 50 percent of the overall seating capacity.
The plaintiff is filing the lawsuit now because insurance companies have cast doubt on whether business coverage applies to virus-related shutdowns. Indeed, thousands of businesses are concerned about the same issue—will business coverage step in to cover losses during this crisis?
Governments Trying to Help Businesses by Qualifying Shut-Downs as Causing Physical Damage
As of this writing, almost all states have issued government-ordered shut-downs, requiring restaurants to close in-house service as part of social distancing efforts. As a result, restaurants around the country have lost significant income. Many of them pay premiums for business interruption or business income insurance and are turning to their policies for help, but insurance companies are pushing back.
Attorneys representing some of Lloyd's of London syndicates, for instance, published articles arguing that government orders to close businesses don't necessarily trigger business interruption coverage. "Civil authority orders because of the concern of the coronavirus typically will not be enough to trigger coverage under the customary policy," one article reads.
Insurance companies argue that business interruption policies cover only physical damages, such as those caused by extreme weather, fires, and broken water pipes. The coronavirus, they say, isn't causing physical damage—only economic damage—so these policies may not apply.
It is possible that businesses will receive some help from governments, however. The New Orleans mayor, LaToya Cantrell, when signing the order requiring restaurants to limit operations to take-out and delivery, specifically noted that the COVID-19 virus caused property loss and damage in certain circumstances.
She added that her administration wanted to specifically address business losses, stating that the virus can stay on substances for many days, so it's "clearly affecting property…and that is the trigger for business interruption coverage."
The New York mayor had similar "physical damage" verbiage in his shut-down orders. It remains to be seen whether this will be enough to get businesses the protection they need to survive.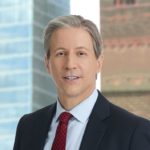 Exclusively focused on representing plaintiffs, especially in mass tort litigation, Eric Chaffin prides himself on providing unsurpassed professional legal services in pursuit of the specific goals of his clients and their families. Both his work and his cases have been featured in the national press, including on ABC's Good Morning America.