The U.S. Consumer Product Safety Commission (CPSC) is warning consumers to be careful with e-scooters, e-bikes, and hoverboards. Injuries are on the rise, and many are serious and require visits to hospital emergency rooms.
E-Scooters Getting More and More Popular as Accidents Increase
Global e-scooter stats show that the e-scooter market is skyrocketing as more people switch from private and public transport to e-scooters. The vehicles are environmentally friendly, affordable, and fun, with recent surveys finding that people are using them more and more for commuting instead of leisure, which was their primary use in the past.
A study performed by scooter rental company Bird found that 50 percent of users took their scooters to and from work, while 29 percent used them to connect to public transport. Nearly a quarter (23 percent) used scooters to replace a ride-hail or taxi trip.
As these vehicles become more popular, though, the number of accidents is increasing. Between 2017 and 2020, there was more than 190,000 emergency room (ED) visits due to these products, which the CPSC calls "micro-mobility products." That was a 70 percent increase, with more people injured each year:
34,000 in 2017
44,000 in 2018
54,800 in 2019
57,800 in 2020
Most of the increase was due to accidents involving e-scooters—their number increased three-fold from 7,700 in 2017 to 25,400 in 2020. Injuries most often occur in the upper and lower limbs, as well as the head and neck. The CPSC is also aware of at least 71 fatalities that occurred over the study period.
How to Stay Safe While Riding an E-scooter
Though a 2020 study in Germany showed e-scooters to be generally safe—and perhaps even safer than bicycles—the CPSC warns that hazards associated with these products fall into three broad areas:
Mechanical—something goes wrong with the e-scooter (or hoverboard or e-bike)
Electrical—the scooter malfunctions or runs out of battery power
Human factors—the rider is speeding or riding recklessly
The Insurance Institute for Highway Safety (IIHS) looked at the data on e-scooter injuries and found that e-scooter riders suffered injuries more frequently per mile traveled than bicyclists (contradicting the German study findings), but that bicyclists were three times as likely as scooter riders to be hit by motor vehicles.
Scooter riders, meanwhile, were twice as likely as bicyclists to get injured because of a pothole or crack in the pavement, signpost, or curb. Nearly three out of 5 e-scooter riders were injured while riding on the sidewalk, whereas only one in five were injured riding in the bike lane.
This has led to confusion and difficulty when it comes to exactly where e-scooters should ride. Cities are dealing with that issue now. Some safety precautions, however, can help:
Always wear a helmet. In the IIHS study, e-scooter riders suffered concussions, loss of consciousness, and skull fractures more often than bicyclists, with only 2 percent of the injured riders wearing a helmet, compared to 66 percent of bicyclists treated in the emergency room.
Before riding a scooter, check it for any damage. Make sure the brakes, lights, tires, and bell are in good shape.
Don't speed. Travel at a moderate pace that allows you to stay safe.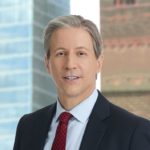 Exclusively focused on representing plaintiffs, especially in mass tort litigation, Eric Chaffin prides himself on providing unsurpassed professional legal services in pursuit of the specific goals of his clients and their families. Both his work and his cases have been featured in the national press, including on ABC's Good Morning America.