A North Carolina Marine Corps veteran recently filed a new 3M dual-ended Combat Arms earplugs (version 2) lawsuit in the U.S. District Court for the Eastern District of North Carolina. He claims that after using the earplugs during his military service, he suffered from serious injuries.
The U.S. Judicial Panel on Multidistrict Litigation (JPML) is currently considering consolidating all federally-filed 3M earplugs lawsuits into one court for pre-trial proceedings.
Plaintiff Struggles in Current Job After Suffering Military-Related Hearing Loss
According to the complaint, the plaintiff joined the military in June 2006. He was 20 years old at the time, and had no signs or symptoms of hearing loss. He served for four years, stationed at Camp Lejeune, a U.S. military training facility in Jacksonville, North Carolina.
Between July 2007 and February 2008, the plaintiff was deployed with the 22nd Marine Expeditionary Unit to a series of overseas locations. Then from October 2008 to June 2009, he was deployed to Helmand Province, Afghanistan. During these deployments, he regularly used an M16A2 rifle, the M240 Bravo medium machine gun, and the M2 heavy machine gun.
During his pre-deployment training and his deployments, the 3M Combat Arms Earplugs were standard issue in the military. He used those provided to him by the Marine Corps, and also purchased additional Combat Arms Earplugs from supply stores within and near Camp Lejeune on multiple occasions.
The plaintiff wore the earplugs while conducting training and combat exercises, and at all times when firing weapons or when exposed to loud noises, specifically while practicing and qualifying at gun ranges.
In February 2008, the plaintiff started noticing symptoms of hearing loss and tinnitus. He continued to experience these symptoms at intermittent periods, with the "ringing in the ears" sensation lasting up to about 10 minutes each time. A Veterans Administration (VA) doctor officially diagnosed him with tinnitus in spring 2010, as he was preparing for his discharge from the military.
The plaintiff now works as a recruiter in the information technology industry, where his hearing damage presents a particular challenge, as he has to spend significant time on the telephone.
Early Company Testing Shows Earplugs Defective
On July 26, 2018, 3M agreed to a $9.1 million settlement with the Department of Justice (DOJ) to resolve allegations that it knowingly sold defective earplugs to the military without disclosing the defects or warning users about them.
The earplugs are designed to be worn in one of two positions—open and closed. In the closed position, the olive-colored end is inserted into the ear, and the earplugs are supposed to block out as much sound as possible. In the open position, with the yellow side inserted into the ear, the earplugs are supposed to block out loud sounds like artillery fire, but allow softer sounds in, like spoken commands.
The military purchased the 3M earplugs from 2003 to 2015. Yet internal company studies showed that, as early as 2000, the earplugs were not up to military standards. They could loosen imperceptibly after insertion, significantly decreasing their ability to provide hearing protection.
Testing personnel allegedly manipulated the earplugs to achieve a proper fit and to get the noise reduction rates needed to meet military standards, but then never instructed users how to perform this manipulation. Instead, the instructions on the package simply stated to insert the earplugs as usual.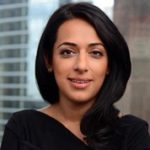 Exclusively focused on representing plaintiffs—especially in mass tort litigation—Roopal Luhana prides herself on providing unsurpassed professional legal services in pursuit of the specific goals of her clients and their families. While she handles complex cases nationwide on behalf of consumers, Ms. Luhana resides with her family in Brooklyn, New York.