In 2018, a total of 4,136 people died in large truck crashes. Sixteen percent of these fatalities were truck occupants, 67 percent were occupants of cars and other passenger vehicles, and 15 percent were bicyclists or motorcyclists. The total number of people killed was 31 percent higher in 2018 than in 2009 when overall truck fatalities were the lowest they had been since 1975.
Meanwhile, over the past five years, juries have awarded high-dollar verdicts to over 300 plaintiffs in truck crash lawsuits. According to the American Transportation Research Institute (ATRI), large verdicts against trucking fleets are increasing dramatically, both in number and in size of awards.
Factors Affecting Verdicts in Truck Crash Lawsuits
Between 2006 and 2019, the ATRI gathered information on 600 cases filed concerning truck crashes. In the first five years of the data, 26 cases ended in verdicts of over $1 million. In the last five years of the data, there were nearly 300 cases that ended in verdicts of over $1 million.
Between 2010 and 2018, the size of the verdicts grew 51.7 percent annually at the same time that standard inflation grew 1.7 percent and healthcare costs grew 2.9 percent. As to why those verdicts increased, researchers pointed to two factors:
Crash factors: these include important aspects of the crash, such as the injuries sustained, the number of vehicles involved, and the number of fatalities involved.
Litigation factors: these include the presence of expert witnesses, log data, the driver's driving history, and other data brought to the court.
Researchers found that the following five factors typically yielded verdicts in favor of the plaintiff:
Hours of service or logbook violations—truck drivers must follow federal guidelines on how long they can drive before taking a break. Many drivers feel pressured to extend those hours to get a load where it needs to be within a certain time frame. This can result in unsafe
Driving history—drivers with a history of accidents or violations are more likely to be held liable in a truck crash lawsuits. Companies who employ these drivers are also frequently held liable for damages in a crash.
Driving under the influence—drivers found to be driving under the influence of alcohol, drugs, or medications often shoulder full or at least partial responsibility for the crash.
Fleeing the scene—drivers who flee the scene of the accident are usually viewed as being guilty of wrongdoing.
Health-related issues—drivers who are affected by health issues that can negatively affect their driving, such as untreated sleep apnea, are likely to be looked upon with suspicion in a crash.
Researchers also found that the type of injury, number and type of parties involved, and sometimes the vehicle types, could have an impact on verdicts. When children were involved in a crash, for instance, the verdict size increased by more than 1,600 percent. Spinal cord injuries also more than doubled average jury awards.
Increase Your Odds of Winning Your Truck-Crash Lawsuit
Plaintiffs who are injured in a large truck crash are encouraged to take the following steps to improve their odds of recovering substantial damages:
See the doctor immediately and follow all of his or her treatment recommendations.
If possible, take pictures of the accident, including details like the location, damage to the vehicles, skid marks, any road or construction signs, and road conditions.
Talk to an attorney for help in gathering data on the driver and the company he/she worked for.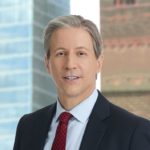 Exclusively focused on representing plaintiffs, especially in mass tort litigation, Eric Chaffin prides himself on providing unsurpassed professional legal services in pursuit of the specific goals of his clients and their families. Both his work and his cases have been featured in the national press, including on ABC's Good Morning America.