Our vehicles have seat belts, airbags, anti-lock brakes, and other safety features, but according to the National Safety Council (NSC), such features may not be enough, particularly considering the growing problem of distracted driving.
The Centers for Disease Control and Prevention (CDC) states that every day in the U.S., about 9 people are killed and more than 1,000 injured in crashes involving a distracted driver. Fortune magazine calls distracted driving an "epidemic" in the U.S., with fatalities from distracted-affected crashes increasing 8.8 percent in 2015, according to the National Highway Traffic Safety Administration (NHTSA). The number of motor-vehicle deaths in 2016 totaled 40,200—up six percent from 2015, which was the first year the annual fatality total exceeded 40,000 since 2007.
Drivers know that distracted driving is unsafe, yet they often choose to do it anyway. Research from EverQuote revealed that even though 96 percent of respondents claimed they were safe drivers, 56 percent of the same group admitted to using the phone while driving.
We already have ongoing campaigns to try to change such behavior, but now safety advocates are calling for more. The NHTSA proposed new driver distraction guidelines to encourage tech companies to reduce the potential for driver distraction via apps and other upgrades that would limit what drivers can do while behind the wheel. So far, those guidelines are facing an uphill battle.
Industry Fights Government Guidelines on SmartPhone Apps
The Industrial Safety & Hygiene News (ISHN) states in their recent article on the subject that the NHTSA's guidelines "call on industry players to collaborate on technology that would disable distracting features of drivers' phones without blocking devices of passengers."
Trade groups are lobbying Washington to pass on the new guidelines, however, stating they would curb technological development and advancement. Consumer Technology Association CEO Gary Shapiro said in a letter to Transportation Secretary Elaine Chao that although the consumer tech industry shares concerns about the hazards of distracted driving, the NHTSA's Phase 2 guidelines "take the wrong approach to this important issue." He states that the NHTSA does not have the authority to "dictate the design of smartphone apps" and that "this regulatory overreach could thwart innovative safety solutions from every coming to market."
The Cellular Telecommunications and Internet Association (CTIA) agree with the NHTSA's goal of maintaining driver focus, but expressed their desire for a "more flexible approach that takes into account the evolving nature of technology." This group has also fought against laws in Massachusetts and New Hampshire that sought to push companies to offer consumers apps that would disable texting and email in moving vehicles, and block cellphone use when teens drive.
Distracted Driving Lawsuits Seek to Hold Manufacturers Liable
Tech companies face challenges when it comes to developing these types of blocking applications, but several have already done it. There is software and hardware already available that can tell when someone is driving, and block certain functions on the phone. Apple submitted a patent for their related technology in 2008, and it was issued in 2014.  Apple's technology can disable any function that could interfere with safe vehicle operation. Apple has yet to deploy the technology, however.
Plaintiffs have filed lawsuits against certain companies, trying to hold them liable for distracted-driving injuries and deaths. So far, the courts have maintained that drivers, not the tech companies, are solely responsible.
Meanwhile, Apple and other manufacturers are making new apps available that block certain functions, but use remains completely voluntary. Surveys like those from EverQuote show that as long as drivers can text, email, and peruse social media behind the wheel, they will probably do so.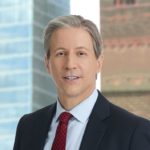 Exclusively focused on representing plaintiffs, especially in mass tort litigation, Eric Chaffin prides himself on providing unsurpassed professional legal services in pursuit of the specific goals of his clients and their families. Both his work and his cases have been featured in the national press, including on ABC's Good Morning America.