More people are riding bicycles these days. That's a good thing for personal health and fitness and the environment. But it has also increased safety risks on the road.
In 2020, the number of preventable deaths from bicycle transportation incidents in the U.S. rose by 16 percent, according to the National Safety Council (NSC). Over the past 10 years, they've increased by 44 percent.
Bicycle-related deaths peak in the summer months and remain high through October. To help keep you and your family safe, we have some helpful tips below.
Who's At Risk?
The main reason for the increase in bike accidents is the increased number of bicyclists on the road. But there are other risk factors as well. These include:
Age: Bicycle death rates are highest in adults between the ages of 55-69. Adolescents, teens, and young adults have the highest rate of bicycle-related injuries treated in emergency departments.
Sex: Male bicyclists have death rates 6 times higher and injury rates 5 times higher than females.
Traffic: Most cycling accidents occur in urban areas, with 64 percent of deaths occurring away from intersections and 27 percent at intersections. The National Highway Traffic Safety Administration (NHTSA) reports that 78 percent of cyclists who died in traffic crashes in 2019 were in urban areas.
Alcohol: Alcohol involvement—either for the motor vehicle driver involved or the killed cyclist—was reported in 34 percent (over one-third) of all fatal bicyclist crashes in 2019.
How Much Does a Bicycle Accident Cost?
The Centers for Disease Control and Prevention (CDC) states that the costs of bicycle injuries and deaths from crashes typically exceed $23 billion in the U.S. each year. These costs include spending on health care and lost work productivity, as well as estimated costs for lost quality of life and lives lost.
According to a 2017 study, not only has the number of people killed in bike crashes increased but so has the cost of each crash. The higher cost per accident is mainly driven by larger numbers of riders over the age of 45 and more street and highway crashes that may involve cars.
Safety Tips When Riding Your Bicycle
Considering the research and statistics, it's essential to take the necessary steps to promote safety for yourself and others on the road.
Invest in the appropriate safety gear: A helmet is critical. It can significantly reduce the risk of head and brain injuries in a crash. It's also best to wear visible clothing with light-reflecting additions.
Make your bike more visible:  Active lighting and reflectors are a must on today's bikes.
Use a bicycle that fits you: Select the appropriate size for your height, and adjust the seat so your fully extended leg has a slight bend.
Regularly maintain your bike: Having something go wrong with your bike can increase the risk of an accident. Check it over regularly to keep it in good order, or have your bike shop do it. Critical parts include the handlebars, wheels, and brakes.
Ride wisely: Follow the rules of the road and take extra caution and driveways and intersections.
Stay alert: Avoid wearing headphones while riding—they can hinder your ability to hear traffic.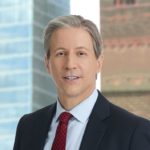 Exclusively focused on representing plaintiffs, especially in mass tort litigation, Eric Chaffin prides himself on providing unsurpassed professional legal services in pursuit of the specific goals of his clients and their families. Both his work and his cases have been featured in the national press, including on ABC's Good Morning America.