In January 2020, a University of Pittsburgh senior was struck and killed by a bus in Oakland, Pa. She was at the intersection of DeSoto Street and Fifth Avenue when a Port Authority bus struck her at about 12:25 p.m. She later died of her injuries at the hospital.
Shortly after the incident, the bus driver was temporarily suspended pending an investigation. Then, on June 17, 2020, that driver was charged with involuntary manslaughter and three other counts.
According to the Governors Highway Safety Administration (GHSA), pedestrian accidents are on the rise. Between 2018 and 2019, there was a 5 percent increase in pedestrian fatalities—a 60 percent increase since 2009.
Bus Driver Should Have Waited for Passenger to Sit Down
According to police investigating the accident in Oakland, the Port Authority driver struck the student while she and two others were legally crossing DeSoto Street. The driver allegedly had her view blocked by a passenger she had picked up where there was no bus stop. The passenger allegedly remained at the front of the bus after boarding, beyond the line where passengers are supposed to stand while searching through his pockets.
Rather than wait for the passenger to take his seat, the driver continued onto DeSoto while the man was still blocking her view. She then struck the university student. The other two pedestrians were not hurt. The police determined that the accident was a result of the driver driving while the passenger was blocking her view of mirrors, in violation of federal regulations.
The driver has also been charged with hitting a pedestrian in a crosswalk, reckless driving, and engaging in unlawful activities (for driving while her view was blocked).
More Pedestrians Killed Today Than in 30 Years
More than 6,500 pedestrians were killed on U.S. roads last year—the highest number in more than 30 years. Investigators are not sure why the numbers have risen so dramatically, but they do point to some factors that are likely to be involved:
Most pedestrian fatalities take place on local roads at night away from intersections, signaling the need for safer road crossings.
Alcohol impairment by the driver and/or pedestrian was reported in nearly half of the traffic crashes that resulted in pedestrian deaths in 2018.
More SUVs are on the road, and they pose a greater risk to pedestrians. Individuals struck by an SUV are twice as likely to die as those struck by a car. The number of pedestrian fatalities over the past decade involving SUVs has increased by 81 percent, compared to those involving passenger cars, which increased by 53 percent.
Speeding, distracted driving and drowsy driving continue to pose risks to pedestrians.
Safety Tips for Pedestrians
Because of a bus's size and front-end design, it poses a unique threat to pedestrians. According to a 2005 study, though cars and pickups hit pedestrians more often than buses do, buses are far more likely to kill pedestrians when they do strike them. The researchers found that buses were 11.85 times more likely per mile to kill children 0-14 years old, and 16.70 times more likely to kill adults age 85 or older than cars.
The National Highway Traffic Safety Administration (NHTSA) suggests these tips to help keep pedestrians safe around commercial buses:
Cross at corners or marked/unmarked crosswalks with the pedestrian signal.
Wait for the bus to leave before attempting to cross.
Stop and look at each edge when crossing multiple lanes to make sure drivers see you.
Walk focused and alert to all traffic, even if you have the right of way.
Drivers are also advised to obey all signs and signals and remain alert for pedestrians at all times, especially around commercial bus stops.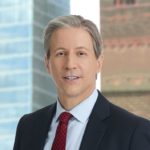 Exclusively focused on representing plaintiffs, especially in mass tort litigation, Eric Chaffin prides himself on providing unsurpassed professional legal services in pursuit of the specific goals of his clients and their families. Both his work and his cases have been featured in the national press, including on ABC's Good Morning America.