In 2020, Covid-19-related shutdowns greatly limited traffic on the roads. According to data collected by traffic analytics company Inrix for its 2020 Global Traffic Scorecard, U.S. drivers averaged 73 fewer hours in traffic in 2020 because of the pandemic.
Nevertheless, according to the National Safety Council (NSC), there was an 8 percent increase in motor vehicle deaths in 2020. The increase in the rate of death is the highest estimated year-over-year jump that the NSC has calculated since 1924.
The NSC called on the current administration to commit to "zero deaths immediately."
NSC Estimates Increase in Motor Vehicle Traffic Deaths in 2020
Preliminary data from the NSC show that as many as 42,060 people died in motor vehicle crashes in 2020. An estimated 4.8 million additional roadway users were seriously injured in crashes, with an estimated cost to society of $474 billion.
With the "alarming" picture painted by these data, the NSC stated that it is urging President Biden and Transportation Secretary Pete Buttigieg to "commit to zero roadway deaths by 2050—a call NSC and more than 1,500 other organizations and individuals made in January in a letter to the new administration."
In that letter, the NSC noted that roadway deaths have been a leading killer in America for decades. About 100 people lost their lives on any given day on the nation's roadways, with traffic crashes being the leading cause of death for people ages 1-25.
The NSC added that Black, Indigenous and People of Color (BIPOC) and low-income people were more likely to be killed or suffer from serious injuries while walking because these neighborhoods have been "disinvested over time, including a lack of adequate sidewalks and bikeways, and an over-abundance of fast-moving, dangerous roadways."
NSC Proposes Strategy to Reduce Traffic Fatalities
As far as how communities may reduce roadway deaths, the NSC outlined its vision in a report called "The Road to Zero: A Vision for Achieving Zero Roadway Deaths by 2050." The report was prepared by the Rand Corporation for the NSC, and develops a scenario for the year 2050 in which "not a single person in the United States dies in a traffic crash."
The proposed strategy would include the following approaches:
Double down on what works: Engage political leaders and decision-makers to support policies and identify new or shared resources for research, roadway design and construction, vehicle engineering, law enforcement, consumer education, and trauma care.
Accelerate advanced technology: Emerging safety technologies like automatic emergency braking, adaptive cruise control, and lane-keeping are already being introduced in the fleet. "Each year," the report states, "these technologies are offered on a greater number of new vehicles and their safety performance improves." The strategy proposes establishing new partnerships among manufacturers, technology providers, emergency medical and trauma systems, public safety/health groups, and the public sector to accelerate the deployment of these technologies.
Prioritize safety: Nurture a pervasive safety culture through awareness, education, and constant reinforcement. Adopt a Safe System approach that assumes people will occasionally make mistakes behind the wheel, and that the overall transportation system should be designed to be forgiving so these mistakes don't lead to fatal outcomes.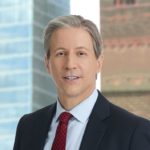 Exclusively focused on representing plaintiffs, especially in mass tort litigation, Eric Chaffin prides himself on providing unsurpassed professional legal services in pursuit of the specific goals of his clients and their families. Both his work and his cases have been featured in the national press, including on ABC's Good Morning America.