The Insurance Institute for Highway Safety (IIHS) states that in 2016, nearly 5,000 motorcyclists died in crashes, which was more than double the number of motorcycle deaths in 1997. A total of 29 percent were younger than 30 years old, and 36 percent were 50 years and older. Sixty-eight percent of the female motorcyclists who died in crashes that year were passengers, and 61 percent of drivers killed were wearing their helmets.
About three-quarters of motorcycle accidents involve collisions with other vehicles. A recent study published in The Journal of the Human Factors and Ergonomics Society suggests a possible reason for that, finding that "inattentional blindness" can keep motorists from actually seeing the motorcyclists in their paths.
Study Shows Drivers Unlikely to See Motorcyclists
For the study, researchers asked 56 adults to look at a series of photographs that represented different driving situations from a driver's perspective. They then asked the participants to determine whether the photograph represented a safe or unsafe driving situation. In the last picture in the series, they introduced an unexpected object, like a motorcycle or a taxicab.
Results showed that 48 percent of the participants (nearly half) did not notice the additional object. They were also twice as likely to miss a motorcycle as a taxi. In a survey taken before the experiments were conducted, participants admitted as much—that they believed they would be far less likely to notice a motorcycle as a taxi.
Researchers concluded that "inattentional blindness"—a term that describes a situation where an observer looks directly at an object but fails to see it—helps explain many crashes involving motorcycles.
"Motorcycles appear to be very low on the priority list for the brain when it is filtering information," said lead study author Kristen Pammer. She recommended drivers put motorcyclists higher on the brain radar, and be more conscious when driving.
Motorcyclist Wins $3.1 Million Verdict in Crash Lawsuit
Motorcyclists who are injured in an accident may be eligible to file a lawsuit in an effort to recover damages. Depending on the circumstances, other drivers, the motorcycle manufacturer, the dealership, or even the government may be liable. Difficult road conditions, for example, can cause motorcycle accidents, and if those roads were not properly maintained by the government, a driver may be able to file a lawsuit against them. And of course, if another driver hit you and caused an accident that was his or her fault, you may be able to file a lawsuit against that person.
In June 2017, a state Superior Court panel upheld a Pennsylvania jury's $3.1 million damage verdict for a fatal motorcycle crash. In that case, the driver of a Dodge Durango turned into the motorcycle rider's path. The 27-year-old rider was killed. He had a GoPro camera mounted on his helmet, and the footage was used as evidence. Investigators also found that the truck driver's blood alcohol was above the legal limit at the time of the crash.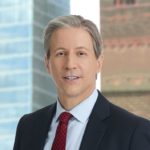 Exclusively focused on representing plaintiffs, especially in mass tort litigation, Eric Chaffin prides himself on providing unsurpassed professional legal services in pursuit of the specific goals of his clients and their families. Both his work and his cases have been featured in the national press, including on ABC's Good Morning America.