The Occupational Safety and Health Administration (OSHA) recently cited Pennsylvania modular home manufacturer Champion Modular Inc. for violating safety standards at the company's Strattanville facility. OSHA has proposed $687,640 in penalties.
Pennsylvania Modular Facility Cited with Violations of Safety Standards
In November 2018, an employee working at the Strattanville Champion Modular facility suffered a body part amputation. That spurred an investigation by OSHA.
During an inspection of the facility, investigators found several safety hazards and ended up issuing willful and serious citations for failing to use machine guarding, provide fall protection, and train workers on hazard communication and hearing conservation.
Among the OSHA citations given:
The employer failed to provide emergency illumination in the production area for employees to see in the event of a power outage.
Employees were potentially exposed to fire, burn, and deflagration hazards from a dust collector that was not equipped with devices and systems to prevent a potential fire.
The chain hoist used to move building frames was missing a function label—the bottom control button was not labeled to indicate the direction of movement it would control.
Combustible dust accumulations were present in the higher areas of the facility, increasing risk of fire.
Equipment/machinery was missing lockout/tagout procedures.
The company failed to perform periodic inspections of servicing and maintenance procedures.
The plastic guard on the table saw was damaged, with two large holes in both sides exposing employees to portions of the saw blade.
Work rests on grinding machinery were not adjusted properly.
The pedestal grinder was being used without a tongue guard.
Electrical equipment was not used or installed in accordance with instructions.
A hoist control pendant was being held together with duct tape, and the cord was damaged and covered in electrical tape.
The hand-fed circular ripsaw was not furnished with a spreader to prevent material from squeezing the saw or being thrown back on the operator. It was also missing a kickback device. There had been an incident when a piece of wood that was being ripped was kicked back toward the operator.
Employees were engaged in work activities on the top of the houses without the use of fall protection.
Champion Modular Must Pay or Contest the Citations
Employers are responsible for providing a safe working space for their employees. OSHA's job is to set and enforce those standards and to provide training, education, and assistance.
Champion Modular had 15 days from notification of the penalty to contest all or some of the citation items, as well as the proposed penalties. The company must provide to OSHA abatement certification for each citation, showing that they have corrected the problems.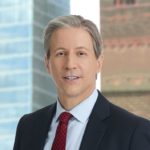 Exclusively focused on representing plaintiffs, especially in mass tort litigation, Eric Chaffin prides himself on providing unsurpassed professional legal services in pursuit of the specific goals of his clients and their families. Both his work and his cases have been featured in the national press, including on ABC's Good Morning America.