If you slip, trip, or fall while on the job, you could suffer from serious injuries or even death.
While it's true that fatal falls occur most often in the construction, mining, and certain maintenance industries, recent research shows that injuries from slips, trips, and falls are most common in the service industry.
Slips, Trips, and Falls Hit the Service Industry Hard
The service industry is made up of dozens of types of businesses including:
healthcare
computer services
transportation
communications and utilities
wholesale and retail trade
finance
insurance and real estate
federal, state, and local government
Critics claim that the Occupational Safety and Health Association (OSHA) is not doing enough to improve safety among workers in this industry. Over 100 million Americans work in service industries, compared with 19 million in manufacturing and 6 million in construction. Yet, the manufacturing and construction industries get more attention when it comes to preventing slip and fall injuries.
The Centers for Disease Control and Prevention (CDC) noted that in 2009, the incidence rate of lost-workday injuries from slips, trips, and falls (STSs) in hospitals was 38.2 per 10,000 employees. This was 90 percent greater than the average rate for all other private industries combined. STFs as a whole are the second most common cause of lost-workday injuries in hospitals.
A 2013 study found similar results, determining that nursing home workers experience more STF-related injuries than workers in other industries. The study recommended more preventive programs.
Safety Tips to Prevent Slips, Trips, and Falls on the Job
Common injuries caused by STFs include fractures, dislocated joints, knee injuries, sprains, and superficial cuts and bruises. OSHA maintains general industry regulations that guard against hazards like clutter, protruding objects, and wet conditions. Employers are responsible for making sure these hazards are eliminated and for training employees on STF prevention.
If you are injured by a fall, be sure to file a workers' compensation claim, as you deserve to receive compensation while you are recovering.
Meanwhile, try these safety tips to help prevent yourself from these types of accidents while on the job:
Report/clean up any spills right away. Even minor spills can be dangerous.
Be extra cautious when walking on smooth surfaces such as newly waxed floors.
Don't carry loads that you cannot see over while walking.
Wear shoes with appropriate non-slip soles. According to a 2018 study, workers wearing slip-resistant shoes saw a 67 percent reduction in claims for slip injuries.
Keep filing cabinets and desk drawers shut when not in use.
Keep aisles and walkways clear.
Cover cables and cords in walkways.
Report worn-out flooring and mats so they can be fixed and/or replaced.
Replace burnt-out light bulbs immediately—falls are less likely in well-lit areas.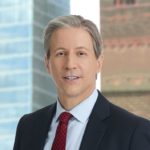 Exclusively focused on representing plaintiffs, especially in mass tort litigation, Eric Chaffin prides himself on providing unsurpassed professional legal services in pursuit of the specific goals of his clients and their families. Both his work and his cases have been featured in the national press, including on ABC's Good Morning America.